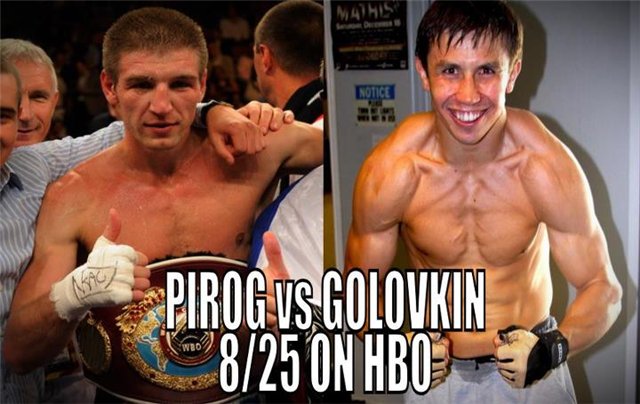 According to promoter Art Pellulo, the rumoured fight between Dmirty Pirog and Gennady Golovkin has been made official for August 25th.
Pirog (20-0, 15 KO's) will be returning to America for the first time since his stoppage win over Danny Jacobs in July of 2010. It will be Golovkin's (23-0, 20 KO's) debut in America and his first fight on HBO. Apparently, Pirog will be forfeiting his WBO middleweight title and just Golovkin's WBA 'regular' title will be on the line.
For both men, it will be their toughest fight to date and a chance to prove that they are as good as they have been made out to be. Both of them have looked fantastic in their careers so far but they haven't really faced anybody of any note.
The likely co-feature on the show is a light-middleweight fight between ring veteran
Sergiy Dzinziruk (37-1, 23 KO's) and Puerto Rican prospect Jonathan Gonzalez (15-0, 13 KO's). It is a big step up for Gonzalez although Dzinziruk hasn't fought since he lost to Sergio Martinez in March of last year.
It is the most exciting chief support that you will ever see but it is a relatively interesting fight. And the main event is one of the best we are going to see all year. Two young prospects that could potentially go onto very big things will meet in the ring at the peak of their careers.