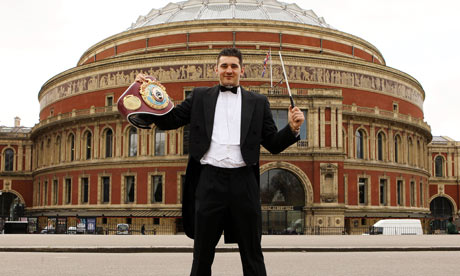 Nathan Cleverly Vs Robin Krasniqi has been sanctioned by the World 
Boxing Organisation for April 28th, despite the WBO earlier saying they 
would not sanction the bout. 
The sanctioning body have announced that they have "reached a deal" 
with Cleverly's promoter Frank Warren to allow the fight to happen. 
Warren added: "Krasniqi is a tough fight for Cleverly and it's easy to 
look ahead to a potential Hopkins fight, but Cleverly has to look good 
and do the business against Krasniqi first." 
Krasniqi has a record of 37 wins from 39 fights with 13 knockouts. But, 
he has never bee in the ring with anybody on the same level as Nathan 
Cleverly. A win for Krasinqi looks very unlikely but stranger things 
have happened inside the squared circle. 
Warren, with the idea that Cleverly will soon be facing the winner of 
Bernard Hopkins Vs Chad Dawson has yet again matched up his fighter on 
the same day as another major fight in the division, hoping to draw in 
more interest. Whilst this is providing great entertainment for the 
fans, it is providing them with false hope of a fight between Cleverly 
and Hopkins or Dawson in the near future. There is no doubt that the 
fight will happen at one point in the next few years but I don't think 
that it will happen anytime soon, which is just down to the fact that 
Cleverly is nowhere near ready and Warren is a smart man that knows 
this and will not want to rush his fighter. 
The chances of Krasniqi winning on April 28th may be bigger than some 
people think. Who remembers Cleverly's fight with Bellew last year?.. 
It was expected to be a relatively easy fight for the light-heavyweight 
world champion but Bellew made it tough for him the whole way through the fight and many people were not sure who was going to get the result. 
What are your predictions for the fight? Let us know on Twitter(@BoxingOpinions1)