By Adam_Canavan
It was in 1962 where the Cuban leader Fidel Castro decided to outlaw professional sports for political reasons that are probably beyond my knowledge to comment on, I'll stick to the boxing, and this leads to the Cuban domination in the amateurs that we all know and love. and if a Cuban fighter did want to turn pro then they would have to defect from their country. Fighters such as Teófilo Stevenson and Felix Savon chose to stay put in the amateurs and stay with their country and the great Pro's Cuba have produced such as Kid Chocolate and Kid Gavilán predated the ban on professional sports with the exception of the likes of Joel Casamayor, who is probably the most well known and successful Cuban defector in the pro ranks so far.
Defecting is a huge decision with a lot of risk and what can be a lot of reward but a reward which is hard to get in this sport, defectors give up their home, family, friends;it is the ultimate sacrifice for success for hopeful Cuban boxers. But now, just as Cuba have lifted the ban on professional boxing in the form of AIBA Pro Boxing (APB) and the World Series of Boxing (WSB), Cuban boxing in the more traditional pro boxing ranks has hit a purple patch. Here we'll look at the best Cuba has to offer in the current pro scene:
Richar Abril
After a stellar amateur career of over 200 bouts Richar Abril, the current WBA world Lightweight champion, is in the rare position where he is allowed to box professionally and yet he has not defected from Cuba; he is free to leave and go back to the island as he wishes, so the worries of maybe never seeing his family again, like a lot of Cuban fighters have, are non existent. He is allowed this luxury courtesy of winning some form of lottery that I find hard to explain.
As I stated earlier Abril is the current WBA lightweight world champion, he has a record of 18(8)-3-1. His 'losses' have been to Breidis Prescott by Split Decision, Henry Lundy by split decision and Brandon Rios by split decision, but lets get this straight: the Brandon Rios 'Loss' was possibly the worst robbery I have ever seen and his other two 'losses' were definitely debatable. Abril has notable victory over the then unbeaten Sharif Bogere too.
Nobody has an easy fight against Abril, but he is also not necessarily television friendly and is definitely one for the purists of the sport to appreciate, I personally enjoy watchin Abril box. He, unlike many of his defecting compatriots, has managed to stay away from the lures and temptations of western society as he can return to his native country to tend to his farms. This is one Cuban at the top of the sport.
Yuriorkis Gamboa
Yuriorkis Gamboa won the gold medal in the flyweight division at the 2004 olympics in Athens and then, a few years later, after he snuck out of a training camp, alongside teammates Olandier Solis and Yan Barthelemy to Germany, via Colombia before that, and it was in Germany where he made his professional debut.
Gamboa has amassed an unbeaten record of 23(16)-0 and picked up impressive names such as Orlando Salido and Daniele Ponce De Leon whilst at featherweight, a division where he picked up WBA and IBF world titles, and has since had one fight at Super-Featherweifht and most recently Lightweight against the Unbeaten Darley Perez, where he coasted to a comfortably points decision. Despite the achievements the general consensus is that Gamboa has not lived up to the hype that was around him during his career, however I think this is a case of the Cuban only doing what he needs to and saving the other gears for when he truly needs them and besidea, he does not create the hype, we do, he has simply dealt with everyone put in front of him. Gamboa has all the potential to become a genuine superstar in the sport, especially now at lightweight where he can fight the likes of Vasquez, Burns, Broner (although it would now be very unlikely) and even against fellow countryman Richar Abril; a fight that has fallen through before. If Gamboa's promoter, rapper 50 cent, can deliver some of these fights and Gamboa can win then I feel it will be apparent that we have a Cuban superstar
Erislandy Lara
Lara, unsuprisingly, was also an accomplished amateur winning a Gold medal in the 2005 World Championships at Welterweight. In 2007, Lara and fellow Cuban teammate Guillermo Rigondeux (who we'll get to later),whilst in Brazil for the Pan American games, only to be caught by Brazilian authorities who detained them both in custody and then deported them back to Cuba. Fidel Castro declared that the pair would never box for the Cuban team again. With that in mind Lara made a second attempt to defect in 2008, this time he was successful.
Lara is now a leading contender in the Light Middleweight division in the pro ranks with a record of 21(18)-1-2. Much like Richar Abril's loss to Rios, Lara's loss (to Paul Williams) is widely considered to be a complete robbery and he was also extremely unlucky for his fight against Vanes Martirosyan to be called a draw, but then Lara was lucky to get the draw against Carlos Molina in the fight before the Paul Williams Fight so maybe it's swings and roundabouts.
Lara's most impressive win, in my opinion, came in his last outing where he got up off the floor twice to stop tough and rugged mexican Alfredo Angulo in the tenth round, fracturing Angulo's orbital bone in the left eye and leaving the Mexican unable to continue. In this fight Lara showed great foot movement and sharp, fast hands, the left hand lead couldn't miss Angulo on the night, and perhaps most importantly he showed heart and powers of recovery, two things that can't always be taught, when he twice got up after being knocked down by big left hooks. This win propelled him to the no.1 contender spot in the WBA, the only downside to this is that the 'regular' and 'super' champions are Saul Alvarez and Floyd Mayweather respectively, undoubtedly the two toughest fights in the division. However, he also has high world rankings with the WBO and the IBF at the moment; these seem like it would be an easier route to a world championship than the WBA route but I wouldn't be suprised if lara chose to take the tougher, higher profile, higher money fight in the winner of Saul Alvarez vs Floyd Mayweather (providing the winner keeps a hold of their belt).
Yoan Pablo Hernandez
Yoan Pablo Hernández was born in Pinar Del Rio in Cuba and also competed for Cuba in the amateur ranks. The reason I bring this up is that Boxrec, and other places, have him listed as German, but rest assured I wouldn't include him if he wasn't Cuban in some form. This Cuban-German cruiserweight boasts a record of 27(13)-1 with his sole loss being a third round TKO at the hands of Wayne Braithwaite, but since that loss he has gone on to pick up the IBF and Ring Magazine titles, both of which he won against Steve Cunningham: he won the IBF title beating Cunningham by a sixth round Technical Decision, after Hernández was cut by a headbutt, in their first fight and Hernández defended his title and also won the Ring title in their rematch in his next fight, earning a Unanimous Decision (115-111, 116-110 x2). Since then Hernández has beaten canadian contender Troy Ross and is considered by many to be the best in the cruiserweight division today. Even if the division is viewed as lacklustre this is still an impressive feat and Hernández is a leading light for Cuban pro boxing today.
Guillermo Rigondeaux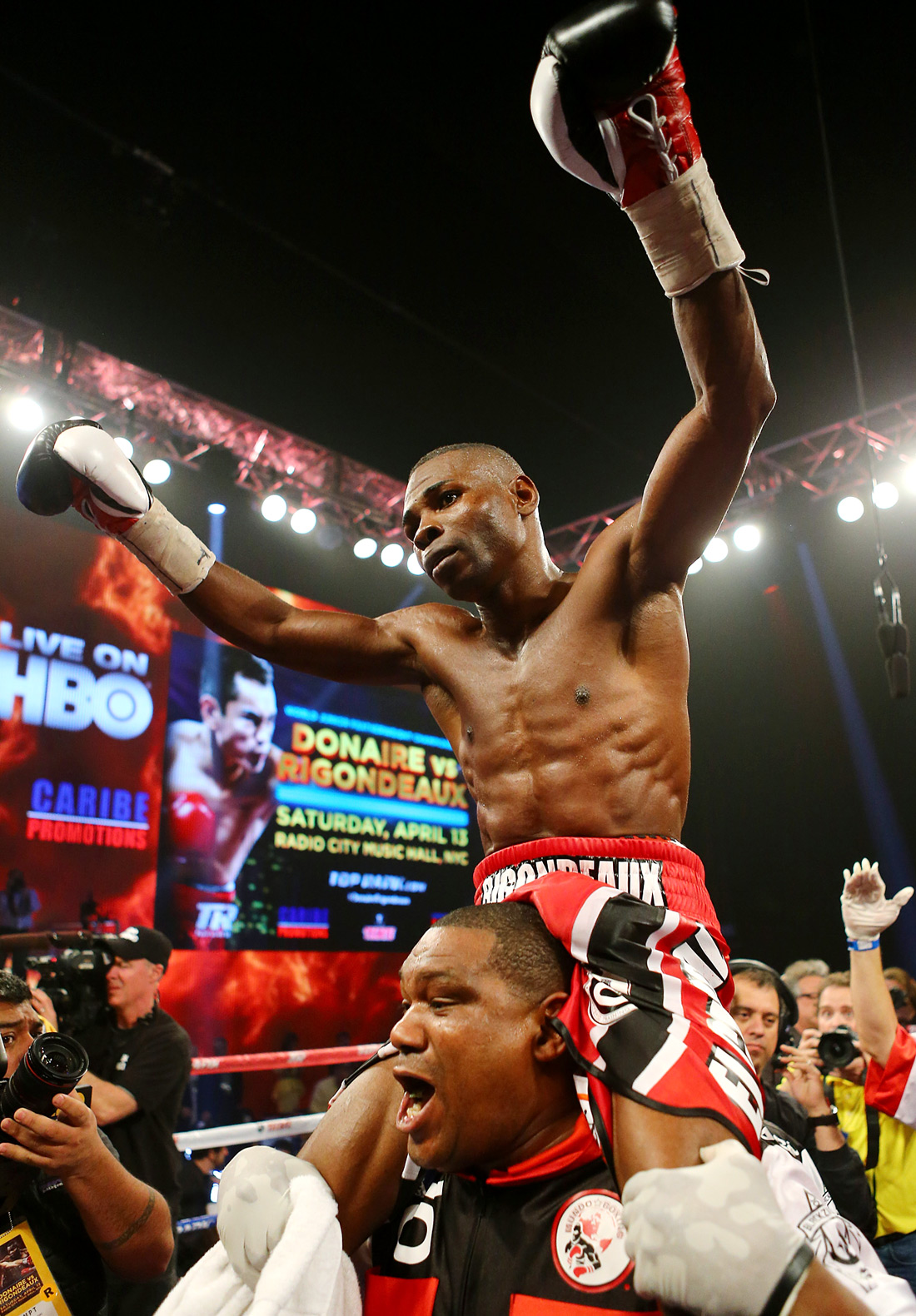 And finally we come to the leading man in Cuban Boxing, the cream of the crop: Pan American Games gold medalist, two time olympic gold medalist, two time world championship gold medalist, some might even argue him as the greatest amateur boxer of all time. His defection with Erislandy Lara in 2007 has already been explained but his second, and successful, defection came a year later than Lara's in 2009. So what has he achieved in the pro ranks? Well... El Chacal is 12(8)-0 and is already Unified (WBA 'Super', WBO and Ring Magazine) champion and undisputed man of the super bantamweight division, Only 12 fights into his career. Think about that. And then factor in that he has a win over one of the pound for pound best of this generation, Nonito Donaire, and not just any win, what is widely considered a masterclass of boxing, or a schooling, and you're looking at all time great potential. I don't think any more needs to be said about this man as I'd be taking the risk of sounding like a fanboy (which may well be the case, but I digress). The potential legacy Rigondeux can leave is completely in his hands, as long as he doesn't fall for the traps of many cubans who turn pro and succumb to the temptations of the western world and stays dedicated to the sport he has already achieved so much in...
So as you can see, Cuban boxing is in an extremely healthy position now with Three World Champions, one of whom is a certified pound for pound top 10 competitor, and Two leading contenders. There are also depth in the future, especially in the Heavyweight division, with the likes of:
Mike Perez
(19(12)-0)who, despite disappointing me with his attitude (supposed frequent trips to the pubs in ireland) and activity, definitely has the talent and potential to rule over the heavyweight division if the above issues are sorted out and he has time as he is still only 27.
Luis Ortiz
(19(16)-0) is another unbeaten Cuban Heavyweight and, although the level of competition hasnt been there yet, I like what i've seen of him and he definitely packs a punch, at age 34 he needs to start making waves and making them quick though, time is against him.
Odlanier Solis
(19(12)-1) has really disappointed me with his dedication to the game since he turned pro, he rarely turns up in shape and this was shown in his world title shot against Vitali klitschko where essentially his knee buckled under his own weight (slightly overstating but not far off), which is a shame as Solis has all the talent to be the one to end the Klitschko brother's reign as heavyweight kings, he has an olympic gold and three world championship golds as an amateur, but he's now 33 and has to get a move on, get in shape and show that talent pronto. There is also unbeaten cruiserweight
Yunier Dorticos
who has an unbeaten record of 14 knockouts out of 14 wins with no defeats.
I don't have time to go through every Cuban prospect but if you want to find them I'd suggest you head to Miami, or boxrec, whichever you'd prefer.