By Dave Lockey @BoxingViper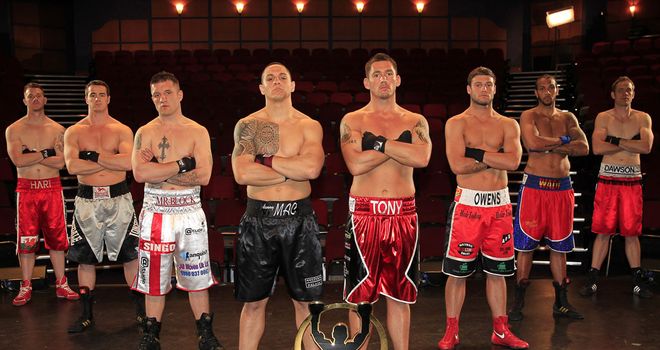 This Saturday, 14th May, sees the return of the ever evolving Betfair Prizefighter tournament. This time it's the return of the Cruiserweights in what promises to be another exciting show brought to us by Eddie Hearn's Matchroom Boxing promotions.
The format is simple; Eight fighters, seven fights, one winner. The fights are based on three 3 minute rounds with the winner progressing through each stage until ultimately being crowned Prizefighter champion.
The contestants for this tournament are not short of talent by any means. The 8 warriors who will step into the ring on Saturday night are as follows;
Camacho, 27, is a seven fight pro boasting six wins in those seven fights. Four of those fights he has won by KO. He has Only 1 defeat at the hands of China Clarke in March this year and that fight was for the vacant English cruiserweight title which Clarke took by stopping Camacho in round seven. Camacho suffered a cut above the right eye in round one and was down in the sixth. The 6ft 3 inch southpaw will provide plenty of food for thought for his opponents, as southpaws so often do.
Nathan "The Outlaw" Owens
Owens, 24, brings an impressive six fight record to the ring with five wins and one draw. That draw, with Paul David, also came in March this year. He has knocked two of his opponents out giving him. His most notable victory came against the experienced Hastings Rasani in April 2012, beating him on points over four 3 minute rounds.
McPhilbin, 27, has a fourteen fight record. He has notched up eight victories with five of those victories coming by way of KO. He also however has six defeats on his record too and has suffered one KO himself. He has boxed some big names along the way including Michael Sprott, Enzo Maccarinelli and more recently, John Lewis Dickinson for the vacant British Cruiserweight Title. On all 3 occasions, McPhilbin was defeated.
Miles, 27, brings a record of seven wins and seven defeats with him to the tournament. His last fight was against fellow Prizefighter contender Wadi Camacho in August 2012 which he lost by stoppage in the seventh round.
Carmichael, 34, has only fought four times despite his vintage. He has won all four of his fights, winning two within the distance by KO. This gives him a KO percentage of 50% which on paper looks perhaps more impressive than his record actually suggests. Activity, or lack of it, could prove costly for Carmichael.
Tony "Conqueror" Conquest
Conquest, 28, has a very impressive record of ten wins from eleven pro fights, four by KO. He has lost only once to another of this year's Prizefighter contenders, Neil Dawson. That fight saw Dawson take the WBO International Cruiserweight title away from Conquest by first round KO. It goes without saying, Conquest will see this competition not only as a springboard for his name to get back into the fray but also as an ideal opportunity to inflict revenge upon Dawson.
Dawson, 32, has a record of twelve fights, eleven wins and only one defeat. He has knocked out four of his opponents and suffered one knock out himself at the hands of the talented Matty Askin. That fight was for the vacant Central Area Cruiserweight Title in 2011. He bounced back a year later with a win against Menay Edwards. This set him up for a shot at the afore mentioned Tony Conquest in December 2012 where he snatched the WBO International Cruiserweight title from Conquest.
Danny "The Big Mac" McIntosh
McIntosh, 33, is stepping down from light-heavyweight for this tournament. He has a record of seventeen fights, thirteen wins and four defeats. Seven of his wins come by way of knockout and he has been KO'd himself four times. Most notably in recent times, he was the stunning KO dished out to him by light-heavyweight world title hopeful Tony Bellew in 2012. It's worth pointing out that his four defeats have come at the hands of Nathan Cleverly, Eduard Gutknecht, Tony Bellew and Eleider Alvarez.
As you may have noticed, a lot of emphasis has been placed on the contenders KO abilities, this is for one reason – the amount of money on offer! Eddie Hearn offers a £2,000 bonus for each KO a fighter inflicts on their opponent. Along with the overall £32,000 on offer for the winner, essentially the victor could earn a tidy little sum of £38,000. This money could be vital for any one of these fighters in order to financially assist them in their career even further in the future.
The tournament rarely fails to deliver and offers a lot of "tear up" style action which always pleases the adoring audiences. Speaking of which, with the tournament being held in the prestigious York Hall in Bethnal Green, there promises to be a collesium type atmosphere as always which I'm sure will urge these 8 warriors on even more.
My ones to watch, in my own personal opinion of course, would be Camacho, Dawson, Conquest and McIntosh. I personally feel that it could be a night for Wadi Camacho to celebrate, however as always in boxing – especially the way some of these fella's punch – the prize is literally there for the taking.
Either way, prepare yourself for a show. From my own experience of watching, Prizefighter never fails to deliver.