By Jack Sumner @Jack_Sumner_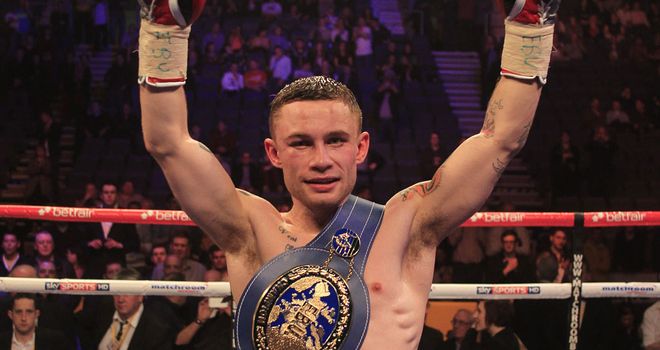 Frampton celebrates with his European title.
They predicted a war and they got one.
Carl Frampton had to endure nine rounds of relentless pressure from the aggressive Kiko Martinez, before a hard right hand dropped the Spaniard for the first time in his career and relieved him of his EBU super bantamweight title.
Backed into a corner with fourteen seconds remaining in the ninth session of the bout at Belfast's Odyssey Arena, the 'Jackal' delivered the short right with Martinez walking in to transfigure his opponent's legs into jelly. Kiko the warrior attempted to get up but was back on his feet a little too quickly and after staggering into the ropes, referee Anssi Perajoki called a halt to the contest.
A contest it certainly was though and early in the fight it became clear that Frampton was in deeper than he ever had been before. Martinez had given the cut-throat gestures at the fiery weigh-in and reminded the Northern Irishman of his power in the second round, landing with hurtful shots when Frampton infrequently fought in close. However, the unbeaten challenger kept his head above water by boxing on the back foot, retreating as Martinez bombed forward with menacing pressure.
That was the pattern of events throughout many rounds of what was proving to be an entertaining scrap, with Frampton looking flustered at times as Martinez continued to stalk. He was landing more punches and the cleaner punches, but the harder shots were coming back from the champion. As the fighters trudged back to their corners at the end of three closely contested minutes though, Frampton was doing enough to win the rounds.
His previously untested chin was standing up to the Spaniard's best power shots and as the fight progressed Kiko was becoming more ragged, missing as Frampton's movement made him an elusive target. A cut had opened under Martinez's eye in the fourth and Frampton's carefully picked shots continued to land, giving his opponent's corner men plenty to do between the rounds and forcing Martinez to dig deep.
He kept coming though and forced Frampton to stand and trade in the eighth but by now it was becoming clear that his best punches weren't leaving much of an impression. Martinez (27-4, 19 KOs), renowned for a solid chin himself, resisted some heavy shots at the start of the ninth round. That resistance would be broken however as he collided with the straight right that put him down.
Another step up in levels mastered by the Belfast protégé of Barry McGuigan and Frampton (16-0, 11 KOs) could be one fight away from landing a world title shot with IBF. British fans are eager for a domestic clash with Scott Quigg next though, a fight that should be made before either man runs into the top opposition that operates at 122lbs.
Earlier in the night British and Commonwealth featherweight champion Lee Selby retained his titles with a wide points decision win over a game but ultimately outclassed Martin Lindsay.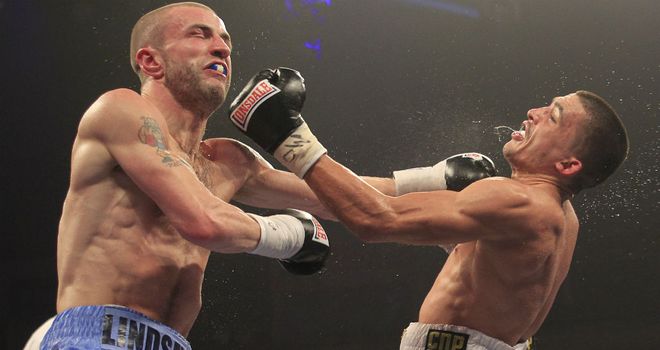 Selby (14-1, 5 KOs) was better and seemingly a lot bigger than the hometown fighter Lindsay, who must have been discouraged seeing his hard, clean punches bounce off the Welshman's chin with little effect. Selby continually dropped his hands and employed a stance that was almost Mayweather-esque, hurting Lindsay (20-2, 7 KOs) badly with body shots and marking him up around the eye. The fight could have been stopped at the end of a particularly brutal tenth round, but Lindsay's corner allowed the brave Belfast man to finish the fight on his feet.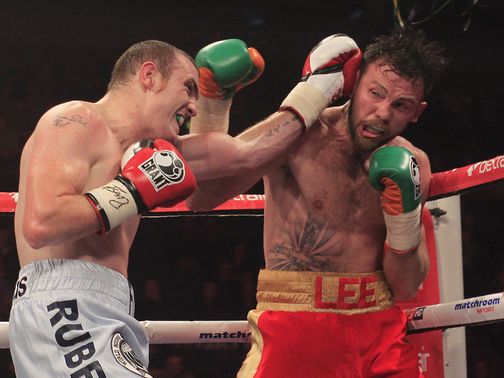 A tough night for Andy Lee.
Selby won by scores of 118-110 (twice) and 117-111 and is now one title defence away from winning a coveted Lonsdale belt outright. On this evidence, he's ready to push on to a much higher level after that and could be in the mix for European honours before the year is out.
A fighter who had operated at a much higher level was middleweight Andy Lee who also returned to action on the card against fellow Irishman Anthony Fitzgerald. But whilst Lee may have been looking to bounce-back in style from last June's world title defeat to Julio Cesar Chavez Jr, against an opponent who had hardly shone campaigning at domestic level, Fitzgerald had other ideas and attempted to grab his big opportunity with both hands. He set a very high tempo whilst Lee was inactive and struggled with Fitzgerald's pressure, though eventually began to show his class after the Dublin man tired and emerged with a points win.
Not an impressive return from Lee though and a performance that perhaps causes concern for how he would fair against the likes of Darren Barker and Matthew Macklin, both of whom have been rumoured opponents for later this year. Lee threw very little when backed up and if Fitzgerald can ruffle his feathers, how would he cope with the high-pressure style that Macklin brings to the table.