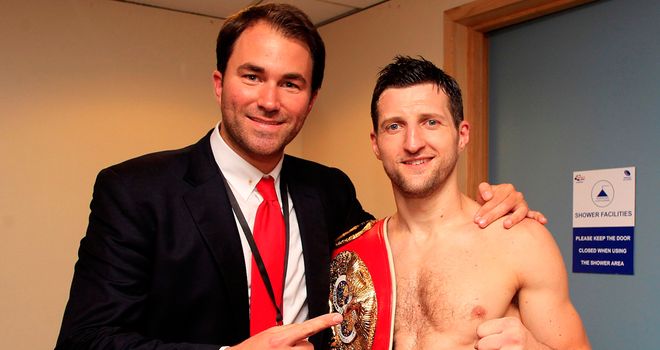 Eddie Hearn with star fighter Carl Froch.
The forever ongoing rivalry between British boxing promoters Frank Warren and Eddie Hearn continued this week when Hearn reacted to some of the things Warren had said in a previous interview.
A few weeks ago Warren made an offer to Hearn for IBF super-middleweight champion Carl Froch to move up in weight and face WBO light-heavyweight champion Nathan Cleverly. According to reports the fight was priced at £2,000,000 but Hearn refused and claimed that Froch had no intention of moving up in weight and was tied down to a rematch with Lucian Bute early next year.
"He knew that because of our obligation to Lucian Bute and because of the weight, the fight would never happen," said Hearn in an interview with iFilm London. "He's living on a different planet. He's a dinosaur. I've seen him in interviews recently saying 'why would I sit down and talk with Eddie Hearn. I've been in this business for years and years and years.' He may know more about boxing than me, but
I guarantee I know more about new-age promoting than him... And how to promote a show, how to get the fans excited, how to build the atmosphere and give the fans of today, the modern age, what they want."
I'm getting tired if this to be honest with you. This is one of the main reasons that we don't get to see as many top-class fights as we would really like, rivalries between promoters. Fights between boxers from different promotions are becoming harder and harder to make because of petty disputes like this. I agree with Hearn on this one, there isn't really much chance of a fight between Froch and Cleverly but I think both are to blame for the arguing. I know it's not just these two but these are the top two promoters in Britain and should set an example to upcoming promoters, the fans and also their own fighters.
By Jack Price @PriceyJ97.