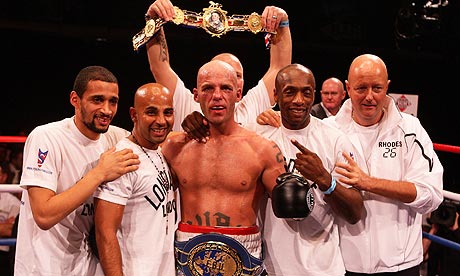 Sheffield-born boxing veteran Ryan Rhodes has officially announced that he has retired from the sport of boxing.
The 35-year old had 52 fights in his professional career and only lost six of them, three came whilst challenging for a world title. His last fight was a stoppage loss against up and coming prospect Sergy Rabchenko, he claims this was the main reason that he decided to retire.
Although Rhodes never achieved success at world level, he did manage to win titles at domestic level. 'Spice Boy' won the British light-middleweight in only the 10th fight of his career. He then won the Lonsdale belt over ten years later after a couple of world title attempts. He then managed to win the European crown by stopping Jamie Moore in one of the most thrilling fights of his career.
Now as you know when most fighters claim they have "retired" or "gone into retirement" it is only usually for a year or so, but I do think Rhodes is gone for good. He seems like the type of guy who thinks about things and sticks to the decisions he makes.
Good luck in the future 'Spice Boy' from all of us here at BoxingOpinions!