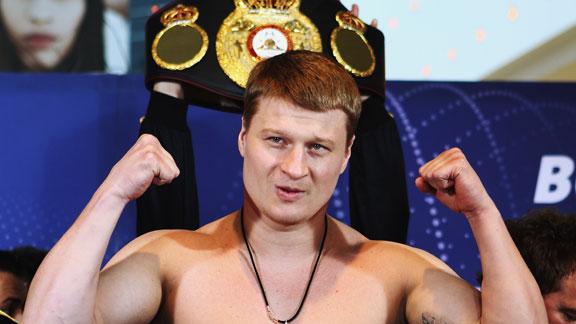 WBA Heavyweight world champion Alexander Povetkin retained his undefeated record tonight (September 29th) with an emphatic knockout victory over a well-past-his-best Hasim Rahman.
To be honest with you this was exactly the outcome I, and probably most of you were expecting. It was a poor match-up between an "old man" and in-prime world champion. Povetkin was the huge favourite and we saw exactly why in the fight.
Rahman actually looked like he was having trouble walking down the steps towards the ring. Now, when you're making your way to fight a world-class heavyweight in their hometown and you are struggling to actually get to the ring, I think that's time to worry. Rahman actually started relatively well in the first round. His jab was very slow but it was strong and when it did land it was knocking Povetkin back. The only problem was that when Povetkin started to put the pressure on, Rahman just couldn't handle it and his defence was terrible. Povetkin started to land at will and managed to nick the first round. The start of the second was more of the same but when Povetkin decided to step the pressure up once again Rahman just couldn't handle the pace. The 39-year old crumbled under the pressure and looked as though he had just froze. Povetkin came forward and through a flurry of punches and almost every single one knocked Rahman's head back. The referee was forced to stop the fight and end Rahman's title hopes in the second round.
I think it's fair to say that Rahman has to retire now. The American has had a decent career and shouldn't jeopardise his reputation and maybe even his health by attempting to fight at a level he just simply cannot compete at anymore.
For Povetkin it's simple. Either step up the level of opposition or continue to be doubted by most of the boxing fans out there. He is a very good fighter but cannot be called a world champion until he faces a world-class fighter and to be honest with you I don't think that's going to happen anytime soon.
By Jack Price @PriceyJ97.