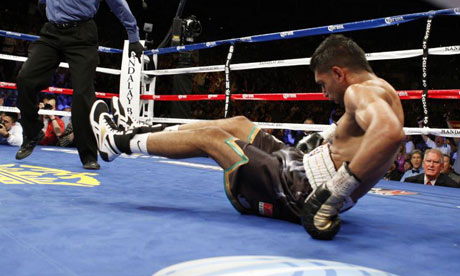 Khan sent to the canvas by Danny Garcia in their July fight.
British light-welterweight Amir Khan will face 'up and coming' Mexican-American Carlos Molina in December of this year.

Khan has suffered two consecutive defeats, his last being a devastating knockout loss to unified world champion Danny Garcia, and is looking to get his controversial career back on track. Molina hasn't stopped any of his opponents in the last three years which could mean that Khan's team have been very careful in picking this opponent. If Khan gets knocked out again, his career could potentially be over.

However, Molina, 26, is an undefeated fighter (17-0-1, 7KO's) and despite his slow burning career Khan, 25, believes he is a dangerous opponent for him.

"Molina is a good fighter who is yet to taste defeat, so I know that he will be very dangerous," said Khan. "He's a tricky fighter who possesses a lot of natural speed. I always want to face hungry young fighters and in Molina I'm up against a guy who has ambitions of world title success."

The Bolton-born man has also confirmed that he will now be trained by Virgil Hunter after his split with long-time trainer Freddie Roach earlier this month.

"I'm really pleased that Virgil Hunter is to become my new trainer," Khan added.

"Everyone in boxing knows about his skills and the success that he has enjoyed over the last few years. I'm looking forward to the start of my training camp and working on some new things with him."

"With Virgil in my corner, I know that I can get back to the very top of the light-welterweight decision."

Whilst picking Molina is a very wise and sensible decision for Team Khan, I would have thought that they would have chosen a slightly more well-known fighter. Seeing as this fight is going to take place in America and not back in Bolton where Khan has insisted he wants to fight for so long, it is going to be very hard to sell this fight. It'll attract a relatively big number of fans just because its Khan but nowhere near the scale of his fights with Peterson and Garcia. It's a fight that Khan will most likely win but will it prepare him for the big hitters that he will inevitably face on his way back up to the top?
By Jack Price @PriceyJ97.