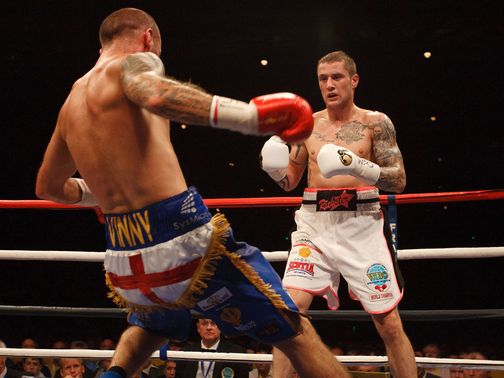 Burns sends Mitchell crashing to the canvas.
Last night (September 22nd), WBO lightweight world champion Ricky Burns stopped the No.1 ranked contender and domestic rival Kevin Mitchell in just 4 rounds.

Burns was the slight favourite going into this fight but almost every boxing fan out there thought this was going to be a very, very close fight. How wrong we were... Burns proved to us and all of his doubters (if he actually had any) that he can not only box at the highest level of the sport, he can bang as well. Mitchell was considered as the dangerous puncher going into this fight, but it was him that ended up in the referee's arms at the end of the fight.

In the first three rounds it looked like it was going to be an action-packed 12-round slugfest as both men started strong and did not ease off. Mitchell did just enough to win the first round but then Burns came on stronger and nicked the second and third. Nobody expected what happened in the fourth, I don't even think Burns did. He threw a left-hook as Mitchell was coming in and it landed so sweetly that it was almost inevitable that Mitchell was going to hit the canvas. The 27-year old rose to his feet bravely but opted to fight back instead of doing the sensible thing which was to hold on. Ten seconds later he was down again and it was clear at this point that the fight was going to be over in this round. The referee did let Mitchell continue but Burns put the pressure on again and the ref was forced to step in with just a few seconds left of round 4.

Both men showed true sportsmanship after the fight and embraced each other almost straight away. Burns showed respect to Mitchell's bravery and Mitchell realised that he had been beaten by the better man. It was a great moment for British boxing.

It is onwards and upwards now for Ricky Burns. Personally, I would love to see him in with Adrien Broner and I think it would be between the two best lightweights in the world. If it was a few weeks ago I would have picked Broner to win without a doubt but after witnessing what happened tonight I would have to think long and hard before I made a prediction for that fight. Burns is up there with the best without a doubt.

For Mitchell, I think its back to the drawing board. There was nothing he could have done tonight, he was just beaten by the better man. A fight with Gavin Rees for the British title would be a good comeback fight for him and it would be a huge ticket seller for a domestic fight.
By Jack Price @PriceyJ97.