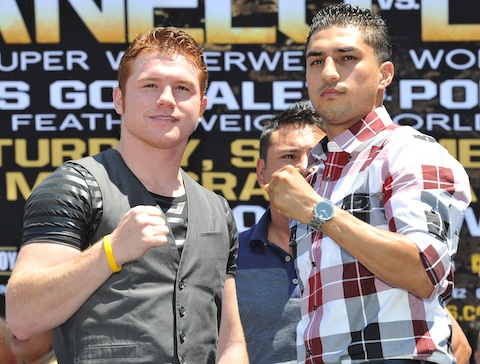 This Saturday (September 15th) Josesito Lopez takes on Saul 'Canelo' Alvarez for the WBC light-middleweight championship of the world. Lopez will be moving up in weight for the second fight in a row but it seems like he will have no problem making the weight.

Both men had to weigh-in on Saturday (September 8th) for the 7-day weigh-in. The fighters had to make sure that they were within five percent of the 154lb light-middleweight limit. This means they had to weigh 162lb or less. We were all thinking that 'Canelo' would be the only one that may have had trouble making the weight as he is the naturally bigger man and a big light-middleweight. However, Lopez actually weighed in slightly heavier than 'Canelo'. The official weights were: Alvarez - 159.8lb & Lopez - 160lb.

So to sum it all up, there should be no problems with the weight for either fighter and I don't actually think there will be any size advantage in this fight. If you look at Lopez, he is probably a natural welterweight or light-middleweight. He has been fighting at light-welterweight for most of his career but showed in the Ortiz fight that he can handle stepping up in weight. One thing we know with this fight is that weight and size will not be an issue.
By Jack Price (@PriceyJ97)