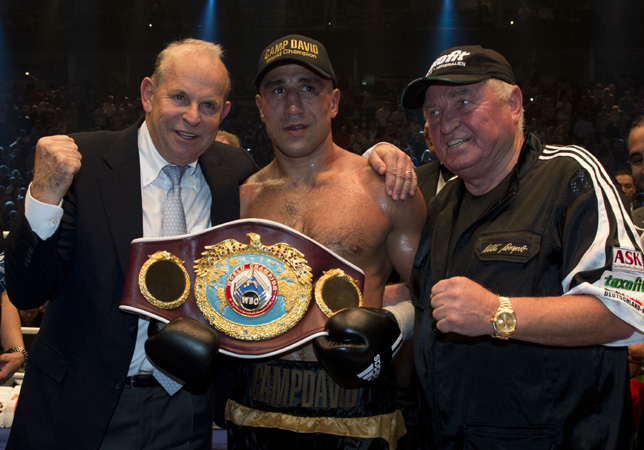 Abraham (centre) with the WBO super-middlweight title.

'Amazing!' That is the only word I can use to sum up this fight. Maybe the intensity and the excitement of the event was just increased because it had been so long since any of us boxing fans had seen a world class televised fight. But anyway, you're not here to hear me ramble on about how excited I am that the boxing season has started again. You're here to read about what actually happened in the highly anticipated super-middleweight fight between Arthur Abraham and Robert Stieglitz.
I think the reason that this fight was as good as it was, is because both men wanted it so bad. It was a crossroads fight and both of them had something to prove. I think it's fair to say that going into this fight we were thinking that if Abraham didn't win then his career as a world-class fighter was over. On the other hand, we all also knew that Stieglitz was desperate to be victorious because he had to prove that he belonged with the top-level fighters at super-middleweight.
It was clear from the beginning that Abraham was not fighting with the same game-plan that he usually does. For anyone who has seen the German-based Armenian fight before, you will know that he usually just lasts through the first half of the fight without really throwing any punches and then from around the 6th or 7th round onwards he tries to wear his opponent down until they give up. But this time things were different. The 32-year old came out strong and fast and clearly won the first round. This was a sign that he knew that this was potentially his last chance at proving he was a force to be reckoned with at super-middleweight. Howeveer, Stieglitz was not just going to lay down and let Abraham walk away with the opportunity. The German-based Russian came back strong and threw more punches in the next few rounds than Abraham probably did in the whole fight. He even hurt the usually iron-jawed Abraham on occasions. When it got to the eighth round, I had it scored even and there were just no clues as to who was going to win. Abraham had just won the last round but he was looking very tired, whereas Stieglitz had blood pouring from his right eye and a bruise above his left but was still looking fresh when he threw his punches. The next four rounds were once again very close, except for the last round which Stieglitz clearly won.
At the end of the fight I had it scored 115-114 to Abraham but I could have easily had it the other way round. The judges scorecards were 116-112, 116-112 & 115-113, all in favour of Abraham. There was no arguments about the winner, I just think the scorecards were slightly wide.
One thing I did notice on Twitter after the fight is how many people were now fans of Stieglitz even though he lost th fight. A lot of people had not really seen much of him before and even though he lost, he still showed a lot of heart and courage and also proved that he can compete with some top-class fighters at the weight.
Abraham is now in the best position he has been in since moving up to super-middleweight. He is now a two-weight world champion and back up there with the top-level fighters. Whilst I don't think there's much chance of him beating the likes of Andre Ward and Carl Froch, there's still a lot big fights out there for him.