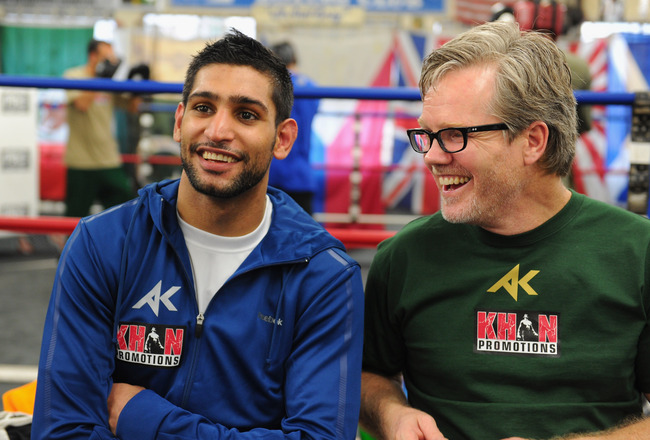 Khan with trainer Freddie Roach.
Former light-welterweight world champ Amir Khan is seriously considering a change of scenery after his devastating knock-out loss to Danny Garcia last Saturday (July 14th). For many years now, Khan has been training in America at the Wild Card Gym with Freddie Roach. Up until just recently, he believed that moving to the Wild Card was the best decision he ever made.
However, now he believes that although Freddie Roach has improved him as a fight so much, they have to part ways if things do not change. Roach also trains Manny Pacquiao and Julio Cesar Chavez Jr, who are both bigger stars than Khan in America. As a result of this, Khan has had to fit his schedule round the other fighters' training plans. The 25-year old Brit believes that this is one of the main reasons that suffered the third defeat of his career in Las Vegas on Saturday.
'King' Khan would love to be able to continue to train at the Wild Card Gym, as he has spent the majority of his career as a fighter there, but he claims this can only happen if Roach commits to spending more time with him. He plans to have a big talk with him very soon.
"It is hard when you are with Manny and have to be No.2," explained Khan. "Every fight is a big fight for me... I'm at the stage where I can make no more mistakes. I need to do things that benefit me and stop thinking about others, which I've been doing my entire life. In the end, it's me who gets in the ring."
"Now is the best time to sort these things out and my team will talk things over with Freddie. I'm sure he will understand because he's been a fighter too."
"I love training in LA and the great sparring I get there. I know we work on the ring things on offence, but we have to work on the defence too... It's about going back to the drawing board and I'm going to have to do that."
Although he has been advised by many to take a very long rest, Khan has revealed that he plans to return to action in December. And ideally he would like a rematch with Garcia in England. Honestly, I can not see this fight happening especially not in England. Khan is going to have to realise that Garcia is in the drivers seat now, and he may have to abide to the American's rules.
"I'd love to have a rematch. There are a few fights available to him, but the big money would be a rematch... It would be brilliant to have that in the UK, December time. I've been fighting away from home for a long time. It's time to go home again.