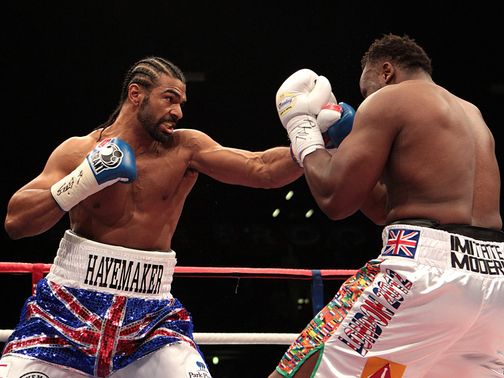 Last night (July 14th), the highly anticipated grudge match between David Haye and Dereck Chisora took place at Upton Park.
When the fighters were making the way to the ring, for each fighter, it was the complete opposite reaction. Chisora was first to face the crowd and was welcomed with loud boo's from a very hostile crowd. There were a few cheers for the 28-year old but I think he relished being the villain. When Haye entered the arena, the crowd came alive and loud roar circulated the whole place. All that was left now was for Michael Buffer to send chills down the spine of every fan watching in the stadium and at home by saying those trademark words... "LET'S GET READY TO RRRRUUUUUMMMMMBBBBBLLLLEEEEEEEE!!!"
And that was it, all the trash-talking, hyping showing off was behind them. All that was left to do now was the two men to have it out in the ring and prove that they were the one who was correct in their pre-fight predictions.
When the first bell rang, both fighters came out fast and just tried to work each other out. Haye got the better of the first few minutes and probably did enough to take the first round. From the start of the second to around halfway through the fourth round, Chisora started to bring himself back into the fight and looked as though he was tiring Haye out. He repeatedly pinned him to the ropes and just pummelled away at his body with his clubbing hooks. At first, this was looking to be effective and Haye looked a little wobbly at the end of the third round. But, at the start of the fifth round, the momentum switched again. Haye started landing some solid shots and they actually were affecting Chisora's usually "solid" chin. About two minutes into the round, Chisora went down from a quick barrage of punches. He managed to rise to his feet but he still looked a little wobbly, and there was still quite a bit of time left in the round. Haye came forward very strong once again and Chisora was sent crashing to the canvas for a second time. He still managed to climb back to his feet but this time the referee decided that he was not fit to continue.
That was it! David Haye had stopped Dereck Chisora and proved that he was back with a vengeance. 'The Hayemaker had done something that Robert Helenius and even Vitali Klitschko could not do.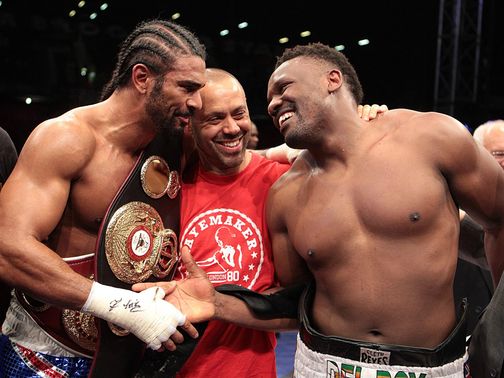 The amount of screams and cheers that came from the crowd at this point were unreal! Nearly everyone in the crowd was there to support Haye and they had just witnessed exactly what they wanted to see. David Haye knocking Dereck Chisora out.
Both fighters were very respectful after the fight. Chisora was graceful in defeat, and Haye was graceful in his victory. Despite everything that has happened between the two fighters, they still hugged and shook hand after the fight. I actually think that even though he lost, this fight gained Chisora a lot of respect from quite a lot of fans.
The big question is now... What next for the two fighters?
Personally, I think that Haye will go back into retirement for a short period of time. If he doesn't get a fight with a Klitschko, and it's likely that he won't... Then there's not really anyone else out there for him. A rematch with Chisora would be good, but I think it would be much better in a few years time, when Chisora has had a bit more experience, which is the main thing he needs, and when Haye is maybe at the twilight of his career.
Despite losing three fights in a row, Chisora still has a lot of big fights ahead of him. First, he needs to take a few fights against European and domestic level fighters, just so that he can rack up a few victories and build up his confidence. People seem to overlook the fact that Chisora is actually a pretty decent fighter. He has only had 17 fights as an amateur and has only had 19 as a pro. He may have lost four, but they have all been against world class opponents, and the Helenius loss was a robbery in my opinion. He needs to fight some opponents of his level and class so he can show his full potential and then he will definitely be ready for world level. Haye said it himself... "Chisora is a definite future heavyweight world champion."
No matter what the critics say, this was a fantastic night for British boxing and boxing all around the world. It got people talking about the sport once again. It was great to see boxing back in the news and on the papers, and also to see casual boxing fans talking about boxing more than football, rugby or tennis. In my opinion, boxing has been brought back to life!