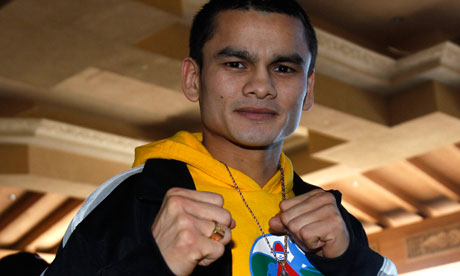 Marcos Maidana.
On July 21st 2012, young superstar Adrien Broner takes on Vincente Escobedo in the main event of the HBO Boxing After Dark show in Cincinnati. And now, another fight has been added to the show. Argentinian welterweight Marcos Maidana takes on up and coming prospect Keith Thurman.
Thurman after his second round KO of Travis Hartman.
This isn't a great fight, as many people have already portrayed it to be, but it is a decent fight. I've heard some people moaning about it and saying it's not even worth watching but I don't think it's that bad.
It's actually good to see an undefeated prospect taking on a tough fighter for once. Thurman (17-0, 16 KO's) has not faced anyone of any note yet but now, unlike many other young prospects in the world right now, he is taking on a fighter who will actually provide him with a tough test. Maidana (31-3, 28 KO's) is definitely past his best but he is still a tough fighter to beat. He has showed the ring with many great boxers that are around today, including a close loss to Amir Khan and wins over Victor Ortiz and Erik Morales. At one point, he looked as though could have gone on to be one of the best in the world. However, recently he has been on a slight decline.
The former world title challenger lost a wide points decision to Devon Alexander back in February which lead many people to think that his run as a top level fighter was over.
This will be a relatively close fight and if Thurman manages to get the victory it could give his career a huge boost and help him a hell of a lot in the future.