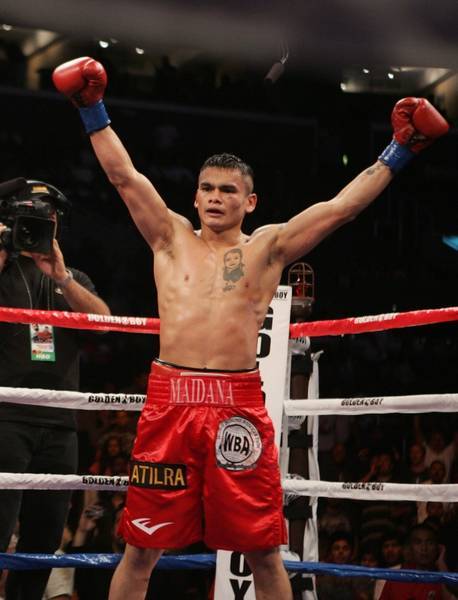 Maidana after his victory over Victor Ortiz.
Now that Victor Ortiz has suffered an upset loss to Josesito Lopez, Saul Alvarez needs yet another opponent for September 15th, and Argentinian former world champ Marcos Maidana is more than willing to step up and take the challenge.
Maidana left Ortiz battered and bruised.
He was actually at the Staples Centre on Saturday night when Lopez defeated Ortiz. He revealed that it brought back memories from when he defeated Ortiz in a similar fashion. But, he doesn't want to live on the past, he wants to look to the future.
"It was a great card. Great wins from Lucas Mattyhsse and Josesito Lopez. Now it's my turn and I want it to be against [Saul] Canelo Alvarez. That's the opponent I want," told Maidana.
If the fight was arranged, there would be just one small problem. Maidana would have to move up two weight divisions and fight a guy that is a very big light-middleweight. 'El Chino' has fought most of his career at light-welterweight (and sometimes even lighter) so it would be tough for him to put on the weight and still stay in shape.
"All I say is they are looking for a fight for Canelo and I want Canelo. I told that to Oscar De La Hoya in person last night. I know some might say that he's too big for me and I say I like the challenge because Canelo likes to fight and so do I. Styles make fights and it would be a war. A war that I can win."
The 28-year old is coming off of a points loss to American welterweight Devon Alexander and he feels that he needs to prove to himself and the world that he's still got what it takes to compete at the top level.
"I feel like I need vindication from the loss against Devon Alexander. And vindication can only be achieved by getting great victories against great opponents. Regardless of the weight, I know I can knock Canelo out. I like the toughest challenges," explained Maidana.
In all honesty, I can't see this fight happening. Maidana would just be too small and I don't think that Alvarez would feel that he had proved anything from getting a victory against Maidana. The Argentinian is a very good fighter but would just not be strong enough or powerful enough at light-middleweight. I'm not sure that Golden Boy would want this fight to happen either. They are also looking to prove that their young star is one of the best in the world, and you won't do that with this fight.