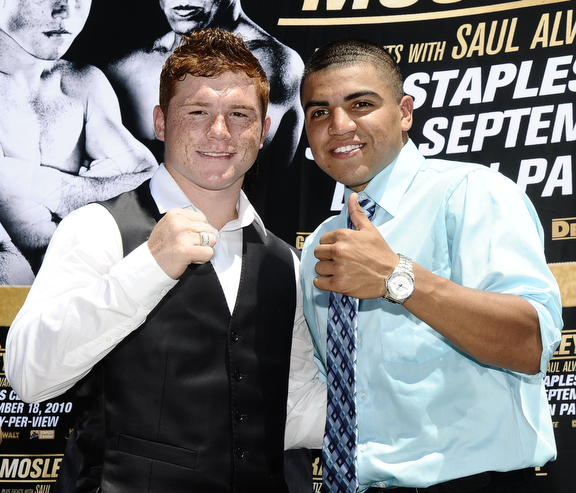 Saul Alvarez with Victor Ortiz in 2010.
It's official! Saul Alvarez Vs Victor Ortiz has been confirmed for September 15th. This is one of the best fights that has been made this year and many people already believe that it could be a potential fight of the year if it lives up to it's expectation.
WBC light-middleweight champion Alvarez has had a lot of bad luck with his opponents recently. Firstly, there was the tragic motorcycle accident involving his original opponent Paul Williams, and then as a replacement he was set to face American up and coming talent James Kirkland. But, this fight fell through due to an injury suffered by Kirkland. However, none of this matters any more. We now have an even better fight to look forward to!
Ortiz and Lopez both have very exciting fighting styles and it seems almost impossible that the two young men will not provide the fans with a great night of entertainment on September 15th.
Ortiz already has a fight scheduled for June 23rd, but luckily for him it is looking to be a relatively easy night for him against Josesito Lopez. Providing that Ortiz does not lose or suffer an injury during that fight, the bout between him and Alvarez is a definite.
The fight will be shown on Showtime PPV and it is the first pay-per-view event since the Pacquiao-Mosley fight in May of last year. Showtime should have no problems getting fans to pay to watch this. I don't know a single boxing fan that will be willing to pay the small fee to watch such a fantastic fight. The event, which is named
Knockout Kings,
will feature a twist. There will be a $100,000 bonus for the fighter who scores the knockout of the night, which will be voted for by the fans. The reward is available to every fighter on the card, not just the televised fights.
The highly anticipated bout is made even more interesting due to the fact that both men are desperate to prove themselves. Ortiz is coming off of a knockout loss against pound-for-pound king Floyd Mayweather Jr so he wants to show the world that he is back and more ready than ever to carry on competing at the top level of the sport. Alvarez is completely different. He is coming off of one of the best performances of his career. On May 5th he retired ring veteran Shane Mosley and dominated almost every round of the fight. However, he still has his doubters and he wants to prove to them that at just 21-years old, he is already at the level to compete with the best fighters in the world.
What a great night it is looking to be. Two young and hungry fighters battling to prove that are the top fighter in the world at light-middleweight right now.