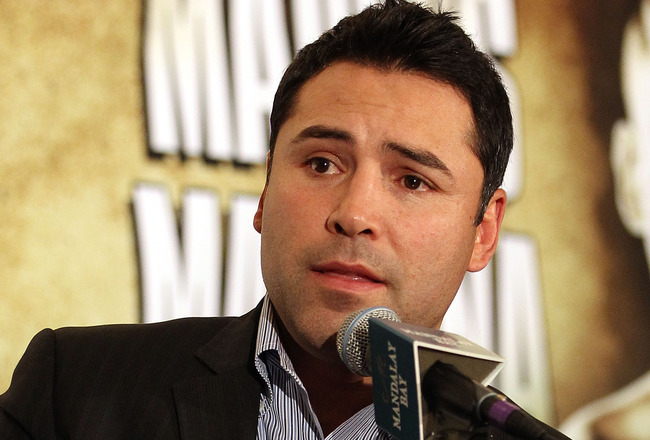 De La Hoya denies all rumours.
There have been a few rumours flying around that ring legend Oscar De La Hoya is eyeing a return to the ring. What is even more bizarre about these rumours is that people have been saying that the 39-year old is looking to fight the winner of Saul Alvarez Vs Shane Mosley.
As you know, De La Hoya is Alvarez's promoter for Golden Boy, so the idea that this fight could happen is insane. Unless they are planning a stunt where Alvarez and De La Hoya share the ring and Oscar just lays down for the young champion to try and improve Canelo's reputation. But, I can't see this happening as De La Hoya has too much pride as a fighter to do this.
This is what De La Hoya had to say about the rumours: "The rumours that have been circulating, I've been hearing. It's just rumours that I'll be fighting the winner of this fight. That's not true. These guys are too difficult for me."
Another rumour that has been flying around is that the 39-year old will headline the the Golden Boy show at the new Barclays Centre on October 20th but it looks as if that show will instead be led by WBA welterweight champion Paulie Malignaggi and Devon Alexander.
De La Hoya's last fight came in 2008 when he lost to Manny Pacquiao. He ended his career with a record of 39-6, 30 KO's and won world titles in six different weight divisions. Although it would be great to see this man back in the ring, I do not think it is beneficial for his health or his reputation... He is already a legend in the sport, he doesn't have to prove himself anymore.