The night of boxing on May 5th has just got even better. First they 
gave us Mayweather-Cotto, then they gave us Alvarez-Mosely and now they've given us George Groves Vs Robert Stieglitz and Marco Huck Vs 
Ola Afolabi on a different show. 

British and commonwealth super-middleweight champion George Groves will challenge WBO world champion Stieglitz in a long awaited fight that is 
set to take place in Germany. 
The main event of the card will see WBO cruiserweight champion Marco 
Huck defend his titles in a rematch against Ola Afolabi.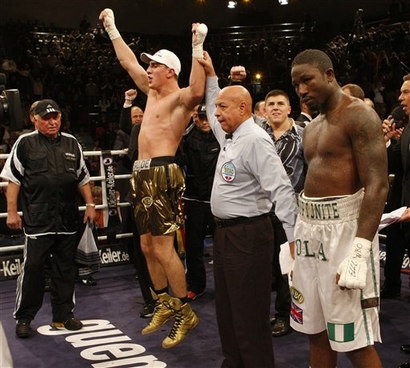 Huck gets hand raised in 1st fight
with Afolabi.
Stieglitz was originally meant to face Mikel Kessler in April (the 
fight had been pushed back from November) but the bout was called off 
after Kessler pulled out and instead chose to fight light-heavyweight Allan Green. Groves was also scheduled to fight a different opponent. 
On May 16th he was going to clash with Kenny Anderson but pulled due to 
a 'back injury'. The same day he was announced the mandatory challenger 
for the WBO title. 
'St George' Groves has done just about everything possible at domestic 
level and is now attempting to make a statement at world level. It is 
sometimes easy to forget that he is only 24 years old when you think of 
everything has done already in his career. But, Stieglitz is a very 
experienced pro that may make Groves look like an un-experienced 
prospect on May 5th. If he doesn't, then Groves may well be a very 
special fighter indeed. 
The first fight between Huck and Afolabi was a very close fight. The 
scorecards read 115-113, 115-113 and 116-112, all in favour of Marco 
Huck. Afolabi is Britain's No.1 ranked cruiserweight and has said many 
times that he will give the fight of his life on May 5th. 
All four of the big fights will be shown live on BoxNation (SKY 456) so 
it is shaping up to be a fantastic day for fight fans all around the 
world.