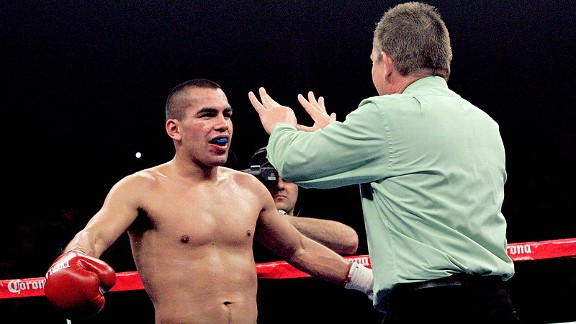 The representatives of light-middleweight contender Carlos Molina have 
spoken out about their fighters improper disqualification against James 
Kirkland last Saturday. 
"Referee Jon Schorle was in error of Texas rules last night when he 
disqualified Carlos Molina and therefore the fight must be changed to a 
No Contest ruling," said Molina's promoter Leon Margules. 
Schorle still claims that his decision was right as Molina's cornermen 
entered the ring whilst the round was still ongoing. The bell had 
definitely gone but Schorle was still giving a count to Molina. This 
resulted in Molina being disqualifed. 
The decision caused uproar with the crowd and massive controversy 
amongst boxing fans worldwide. 
Margules has repeatedly pointed towards Texas Commision rule 61.41 
which states: When a round ends before a contestant who was knocked 
down rises, the bell shall not ring, and the count shall continue. If 
the contestant rises before the count of ten, the bell shall ring 
ending the round. 
Team Molina will also petition the WBC for an immediate rematch. Luis 
DeCubas, Molina's advisor stated, "I'm sure Golden Boy Promotions 
(Kirkland's promoter) will agree with me that an immediate rematch is 
warranted. I remember their great concern for the improper actions of 
ringsiders after Amir Khan lost to Lamont Peterson, so watching the 
tape and seeing the obvious influence on the situation exerted by their 
matchmaker Eric Gomez, who was standing behind the ringside officials 
shouting at them to disqualify Molina… they must be mortified by his 
actions and in search of an immediate rectification." 
Kirkland and his team have not yet spoke out about the situation.