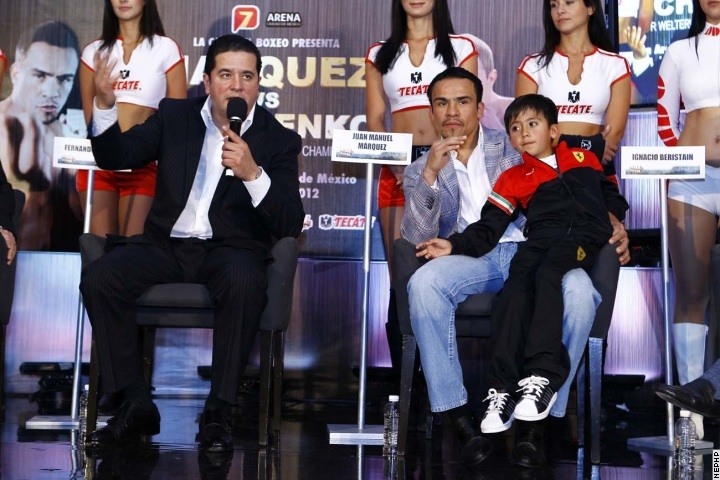 Juan Manuel Marquez (right) with promoter Fernando Beltran (left).
Juan Manuel Marquez's promoter Fernando Beltran has said that his 
fighter will be boxing Manny Pacquiao and Mercito Gesta in the near 
future. 
He announced the fights at a press conference for Marquez's fight on 
April 14th against Serhiy Fedchenko. 
"Juan Manuel will fight Fedchenko en April, then on July 14 against 
Mercito Gesta at Cowboys Stadium, and in November the fourth fight with 
Pacquiao," said Beltran.
 
Beltran is thought to have been the key figure in getting Marquez his 
third fight with Pacquiao last year and the 'Pacman' has already 
announced that he wants to fight Marquez for a fourth time before he 
retires. So the fight will almost definitely happen as long as there 
are no problems. 
Although the two fighters want the bout to happen, the fans most likely 
do not. As a fight between Pacquiao and Floyd Mayweather Jr seems much 
more appealing, but this is a good back up fight if negotiations 
between Pacquiao and Mayweather are not successful. 
There have also been rumours about a potential fight between Marquez and Brandon Rios, who is also fighting on April 14th. Now, this is a 
fight that the fans would certainly like to see. When we announced on Twitter that there could be a chance of a fight between Marquez and 
Rios, the response was amazing, with many people predicting it would be 
the 'fight of the year'. 
Bob Arum from Top Rank Promotions who represent Pacquiao and Gesta was 
not available for comment.