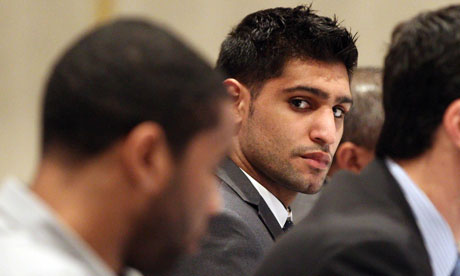 Amir Khan at this weeks press conference in London.
Former light-welterweight world champion Amir Khan has been challenged to face the winner of Kell Brook Vs Matthew Hatton which is set to take place this Saturday.
Hatton (Right), Brook (Left)
Khan has been planning to move up to 147lb (welterweight) for a long time with his main target being No.1 fighter in the world Floyd 'Money' Mayweather, but first he must prove that he can be effective at this weight and an introduction fight with either Brook or Hatton would be a great way for us to see whether he is ready for the welterweight division. My guess is that Khan would prefer to face Hatton as we all know that there is already a question mark over who would win between Khan and Brook. To be honest my vote go towards 'The Special One' Kell Brook as he has shown so much potential and is still yet to lose a round in my opinion.
Brook's promoter Eddie Hearn commented about the prospect of his boxer fighting Khan: ''Khans eyeing a move up to welterweight, so the winner of this clash is a natural fight... We'll have 10,000 fans in the arena for Brook Vs Hatton so what sort of numbers do you think a fight with Khan would do?''
Khan's main focus at the will be his forthcoming rematch wit Lamont Peterson who beat Khan in a controversial decision last year.
Most people will agree that this year will be make or break for the superstar from Bolton Amir Khan.