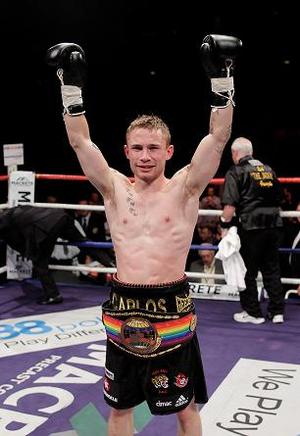 Super-bantamweight prospect Carl Frampton.
Super-bantamweight Carl Frampton is fighting on the biggest stage of his life so far this Saturday on the under-card for Kell Brook Vs Matthew Hatton which is expected to draw a sell-out crowd of 10,000 at the Motorpoint Arena in Sheffield.
Frampton will be boxing against unknown Ghanaian Prosper Ankrah. Although he knows little about him Carl is definite that he will not take him for granted to avoid any mistakes and ending up with a loss on his so-far perfect record.
The young prospect Frampton has already been lauded as a future European and World champion by his manager Barry McGuigan. Barry himself is a former world champion so he definitely knows what he's talking about and he claims that it is the god's honest truth that he believes Frampton will be a star of the future.
Although he is happy about all the compliments, Frampton has not let these words go to his head. He still admits that his technique needs a little polishing before he can get to the next level.
''We've been working my head movement, making myself less easy to hit as I come forward... as a super-bantamweight it's very important... I am looking to do a bit more damage up close and I suppose you could say I need to work a little bit harder at close range but I have always felt very comfortable as mid-distance fighter'' said Frampton.
Promoter Eddie Hearn has already stated that a win for Frampton on Saturday would almost certainly secure a further fight back in Belfast in June but Carl still says that this fight is his main focus at the moment.
''I know I have to be on my game and i'm looking forward to boxing on such a big stage'' said Frampton who will definitely give the fans a fight to remember on a show that is shaping up to be one of the best of the year!