By Andrew Graves @andrewgravess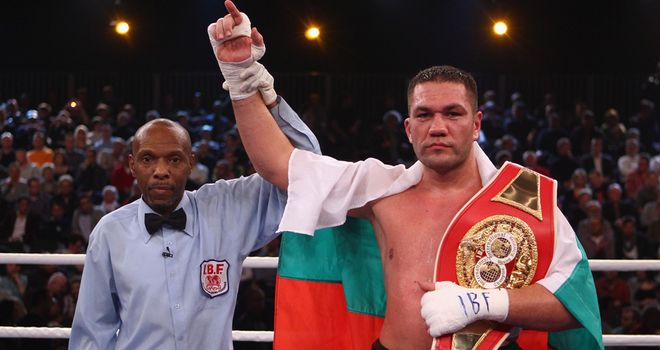 In his latest bout Kubrat Pulev defeated Tony "The Tiger" Thompson in one of the most boring fights I have ever watched in my entire life. Pulev had so much hype surrounding him coming up to this fight especially after his performance against unbeaten Belarusian Alexander Ustinov finishing him in a superb display in the 11th round defending his IBF International Heavyweight Title for the 3rd time becoming ranked number 1 with the International Boxing Federation.
The bout was arranged for the 24th of August in Schwerin, Mecklenburg-Vorpommern, Germany, try saying that 10 times fast, Pulev would enter the bout as a major favorite with his impressive 17-0 record, Considering this fight was 2 ranked top 15 heavyweights and possible a number 1 contender bout it was just terrible from start to finish, in the first 5 or 6 rounds Pulev actually struggled to get to the 42 year old American getting caught repeatedly with jabs and tying him up over and over again, this fight looked like something you would see outside a pub late on a Friday night, in the middle rounds it became obvious that father time was catching up to Thompson with the veteran clearly slowing down and breathing continuously through his mouth, Despite this i actually had Thompson ahead after 9 or 10 rounds due to his early work earlier in the beginning rounds, going into the last 2 rounds Thompson was clearly gassed and gave Pulev the last 2 rounds repeatedly getting caught with what looked like powder puff punches which didn't seem to hurt Thompson but this would ultimately give the unbeaten Bulgarian the victory, Pulev ended up winning the bout with a unanimous decision victory but is he the next big thing or the next big hype? Is he good enough to stop the Klitsckho dynasty from continuing?
I have to say on this performance there's no guarantee he would pick up a victory against my Nan never mind the dominant Klitsckho's. The blue print is out there to defeat the current IBF, WBA (Super), WBO, IBO and Ring Magazine champion in all 3 of his loses against Ross Puritty, Corrie Sanders and Lamont Brewster. The recipe has been the same. Close down the distance on Wladimir and try to land big shots on his supposed "glass chin." Saying this, ever since the loss to Brewster Klitsckho has improved leaps and bounds at least doubling the speed of his jab and foot work. Even if Wladimir came up against Pulev at his worst exposing his chin I honestly don't think the Bulgarian has the power to hurt the champ nor the footwork to close the distance. On the basis of Pulev's last performance I would say he is not even close to being ready for the world's best and Wladimir will knock him out with ease within 6 rounds.