By Adam Canavan @adam_canavan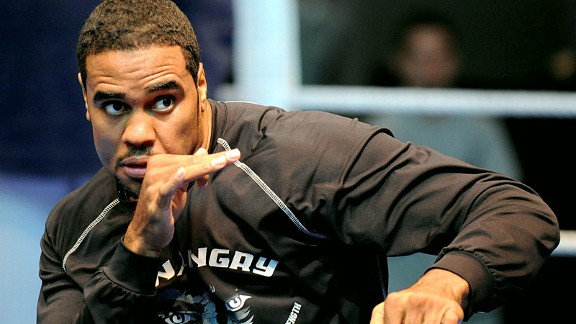 Chambers training hard & looking in-shape at cruiserweight.
This Saturday night 'Fast' Eddie Chambers (31) makes his Cruiserweight debut against South African hope, Thabiso 'The Rock' Mchunu (24).
Mchunu is a largely unknown quantity outside of South Africa, so much so that I could only find one clip of him online and that was only round 6 of his first fight against Danie Venter, which was actually contested at heavyweight. Therefore my assessment of him is made solely on those 3 minutes of footage. The first thing I noticed is that he's a southpaw and that he's short, but despite this lack of height he likes to take command of the centre of the ring and fight at long range. He uses head movement to avoid punches and uses feints and head movement quite well to allow him to get into punching range and when he's there he throws combinations quite well to the head and body. He seems quite slow but has good accuracy and seems strong with a stocky build and has reasonable punching power. 'The Rock' has a record of 13(10)-1(1) but there really isn't much else to say on that as none of the names are really recognisable or have gone on to achieve a lot. His sole loss came to Zack Mwekassa in a 6th round TKO, but looking at Mwekassa's record he seems to have power, stopping 12 of his 13 wins, so maybe there's no shame in that loss.
However, Eddie Chambers' record is of much better quality. He is 36(18)-3 (1) with notable wins over Derric Rossy (x2, in their first fight Chambers took Rossy's unbeaten record), Dominick Guinn, Calvin Brock, Samuel Peter and Alexander Dimitrenko. One of his losses, against Tomasz Adamek (who is also in action against previously mentioned Chambers' foe Dominck Guinn on Saturday), should have been a win for Chambers in my opinion in a fight where he had to fight with one arm due to a torn bicep. The other two losses have only come to the elite of the Heavyweight division in Alexander Povetkin (UD) and Wladimir Klitschko (KO12) and he didn't disgrace himself in those fights with his performance. Chambers has been inactive since 2009, fighting only once a year.
Eddie Chambers is a very defensive minded fighter, he likes to stay on the back foot and keep his opponent at range, though he has been comfortable on the inside in some fights, and he is a very good counter puncher. He lives up to his monicker of 'fast' in his hand speed and reflexes: he gets out of the way of punches by moving his head, often leaning back to get out of the way, and he is very good at catching punches on his gloves and elbows and his hand speed helps him capitalise on mistakes his opponents make, particularly by countering with quick right straights as he often did against Povetkin and Adamek.
The big question here is how Chambers is going to be at Cruiserweight: will he struggle to make weight? Will he be drained? Will he have more power? Going from his past fight weights and the shape he's been in, I don't think he'll struggle to make the weight at all. He only has to drop 2lbs off of his previous fight weight (202lbs against Adamek) and I think he has always been small for a heavyweight and will have no problem cutting the weight as he has, and I hope he doesn't mind me saying this, looked a bit soft around the waist. However, in recent photo's I've seen of him he, he has looked to be in the best shape of his life.
Mchunu isn't too fast a fighter so Chambers won't have to adjust too much to deal with the speed and his reflexes should settle in his new weight pretty quickly. I think Chambers just does everything that Mchunu does but better, add in the height difference and reach advantage and lack of experience for Mchunu and I don't think it looks good. I think Chambers will be in solid shape for this fight and will have the power that he never had at heavyweight and the gulf in class will show with chambers wearing Mchunu down and stopping him late.
My final prediction: Chambers TKO9