By Jack Price @PriceyJ97.
Thompson does it again. Price's world falls apart.
Around 5 months ago the biggest fight in British heavyweight boxing, or maybe even British boxing as a whole, was David Price Vs Tyson Fury. The two giants seemed on a highly-anticipated collision course with both of them looking to achieve the same things in the sport, the main thing being a world title shot. However, on February 23rd everything changed when Price was knocked out in just two rounds by American veteran and big underdog Tony Thompson in his hometown of Liverpool, leaving the 2008 Olympian miles behind Fury at that current point as Fury looked to move onto bigger and better things.
Last Saturday Price had the opportunity to right all the wrongs, get revenge on Tony Thompson and get back to the place he once was. Price, once again, entered as the big favorite with many believing that the shot he was KO'd with in February was just a "fluke." However, the 30-year old was exposed badly once again, this time being stopped on his feet in 5 rounds. It will now be a very, very long road back for the gentle giant if he does still have ambitions of winning a world title in the future.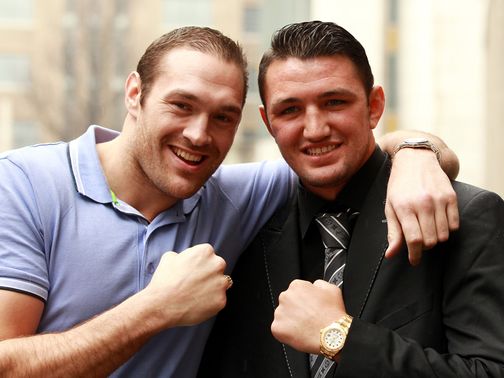 Tyson with little cousin Hughie.
So obviously now Tyson Fury Vs David Price is nowhere near as mouth-watering as it once was. Whilst some people may still want to see it, there are a lot more bigger fights out there now, the main one being Fury Vs 'The Hayemaker' David Haye - a fight that looks set to take place in September. Now on very different paths and journeys, Tyson has put forward the idea of another interesting fight. He wants Price to take on his little cousin Hughie Fury.
Hughie has only been pro for 4 months but has already started to make a big name for himself with him winning 6 out of 6 in impressive fashion. If this fight was to happen in September, which is the proposed date by Team Fury it would be a very intriguing match-up but way too early and a lose-lose situation for both.
Hughie would have only been pro for 6 months so it would be a massive step-up for him after only fighting journeyman so far, but it would also be a massive step backwards for Price. Whilst he is in a tough position right now, a fight with Hughie is not what he needs as it will earn him nothing.
For Team Fury this would maybe be seen as a fantastic opportunity for young Hughie because if he did beat Price it'd put him in a fantastic position and help him on his way to achieving his dream of becoming the youngest heavyweight world champ of all time. However, it is very hard to see Team Price taking this fight unless they are desperate for a relatively big fight in September. But that is unlikely to be the case as I'm sure now that heavyweights will be queuing up to fight him.
In 2014 I can see this being another mouth-watering fight, similar to Tyson Vs Price, but not just yet, it needs time to grow. I won't be complaining if it does get made this year though. I, a long with many other, will still watch it.