By Jack Sumner @Jack_Sumner_
Gamboa climbs off canvas to earn a decision win over Farenas.
Yuriokis Gamboa and Darley Pérez meet at the Bell Centre in Montreal, Canada this Saturday with the vacant WBA interim lightweight title on the line. In his first fight at lightweight, Gamboa takes on a fellow unbeaten Latin American fighter in Perez, who'll be looking for stateside exposure by taking the scalp of one of boxing's most hyped emerging stars.
Gamboa (22-0, 16 KO's) is coming off December's unanimous decision win over Michael Farenas, a victory that landed him an interim super featherweight title in his first fight for fifteen months. A bit of ring rust may have been evident however as Gamboa looked less than spectacular in that fight, having to climb of the canvas to beat Farenas though scoring two knockdowns of his own.
Knockdowns are prevalent with Gamboa whose open, attacking style means he's often as likely to touch down as his opponents, yet as one of the finest offensive fighters in the sport he's always had the firepower to carry him through thus far. However, as the former unified featherweight champion begins to move further north of what appeared to be his natural weight class, he could eventually come unstuck against a bigger, offensively capable fighter who's able to check the Cuban's suspect chin.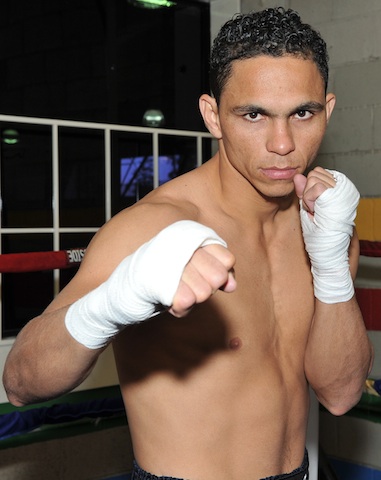 Darley Perez.
That could be Perez (28-0, 19 KO's) who as his record and knockout ratio would suggest carries some punching power at lightweight and has campaigned at 135lbs for the majority of his career. Having said that, his opposition has been levels below that of Gamboa and four of those last five opponents have taken him the distance, but he's lacked exposure, is hungry and in his mind unconquerable having yet to taste defeat.
The unblemished 29-year-old should have the edge in power against the much smaller man in Gamboa and possesses significant height and reach advantages in the fight. Where he can't match Gamboa for speed, he's an accurate puncher and trumps the Guantanamo Cyclone in the defensive department, covering up well and being much more selective with his shots.
It's a fight that many will expect Gamboa to come through easily, after all, who's ever heard of Darley Perez? This could however be the Colombian's coming out party and after periods of inactivity, Gamboa may have bitten off more than he can chew.
On the other hand, it's only two fights ago that the 31-year-old looked sensational beating Daniel Ponce de Leon and was pushing himself into pound-for-pound conversations and talks of potential superfights with boxing's elite. He's enigmatic, but that's part of what makes him exciting and if he can recover his pre-layoff form, fans could be in for some real excitement on Saturday night.