Will Pianeta be just another victim of 'Dr Steelhammer'?
By James McKnight @JamesMcKnight83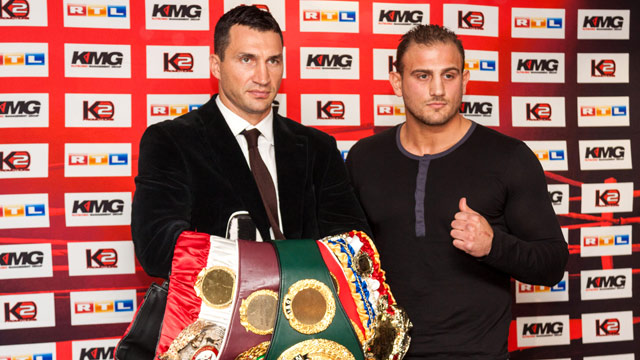 WBA, WBO, IBF and IBO heavyweight ruler Wladimir 'Dr Steelhammer' Klitschko will defend his titles on May 4 when he comes up against southpaw, Francesco Pianeta. The SAP arena in Mannheim, Germany, hosts this heavyweight title contest.
Wladimir Klitschko (59-3-0, 50 KO's), needs no introduction. He has been dominating the heavyweight scene since 2004 winning 17 bouts (12 inside the distance), in succession. The only blemishes on his record came in 1998 (Ross Puritty), 2003 (Corrie Sanders), and 2004 (Lamont Brewster). All three of those losses came inside 12 rounds. It is safe to say that 'Dr Steelhammer' has taken a liking to ending contests before the final bell is sounded.
Klitschko of course has fought southpaws in the past. In 2000, he came up against Chris Byrd whom he beat on points. In 2003, however, Corrie Sanders inflicted only the second defeat of Klitschko's career at the time after a two round demolition job. In 2006, Klitschko rematched Chris Byrd and beat him in 7 rounds. Sultan Ibragimov (2008), Tony Thompson (2008 & 2012), and Rusian Chagaev also suffered at the hands of 'Dr Steelhammer'.
The 6'6" Ukranian born fighter comes up against a challenger who is very much unknown to many persons. Those inside the boxing vicinity have heard of Francesco Pianeta, but those outside have not. The 28-year-old Italian now resides in Germany and turned pro in 2005. His record currently stands at 28-0-1, 15 KO's. He is a 6'5" tall and is a former WBC Youth World and EBU-EU (European Union) heavyweight titlist. Pianeta has fought some recognized names during his pro career. Arguably his greatest achievement is securing a draw against Poland's Albert Sosnowski in 2009. The 28-year-old then went on to beat England's Matt Skelton that same year, and in 2012 he beat a much faded version of Oliver McCall followed by a win over Frans Botha. He is currently ranked #12 with the WBA and #7 with the WBO.
Pianeta faces his sternest test to date. He has never fought on the World stage before and has certainly not fought an opponent like Wladimir Klitschko. Pianeta is going to be tested like he has never been tested before. We will see what he is made of. Pianeta does not know his limits yet and although he has a mountain to climb when he comes up against 'Dr Steelhammer', he could just peak at the summit.
Pianeta looks like a confident fighter. He can box on the back foot and likes to come forward, working behind his jab and enjoys throwing his left hand. He actually throws a solid straight left. He is aggressive when it is required. If he is able to land a solid straight left then it will be interesting to see how Klitschko takes it. In the past Klitschko's chin has been tested and he has been hurt, so you never know. However, he is now a much more established techinician. Klitschko is 37 years old but it is clear to see that he still possesses excellent footwork, skill, movement and a powerful right hand. He ticks all the boxes whereas with Pianeta there are question marks.
We may witness Pianeta step up to the plate and be able to take Klitschko out of his comfort zone, but in order to do this he has to put on one hell of a performance. On evidence of what I have seen of Pianeta, he comes up short. I just can not see him competing with Klitschko, who is just on a whole different stratosphere to Pianeta to be honest.
I think Klitschko dominates, lands at will and gets Pianeta out of there before the 5th round, unless Pianeta has one granite chin!