By Andrew Gavan @AndrewGavan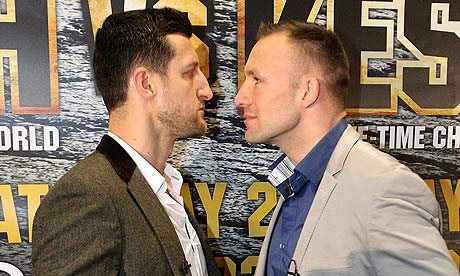 On the 25th of May at the O2 arena in London IBF Super-Middleweight Champion Carl "The Cobra" Froch 30-2-0 (22 Ko's) takes on WBA Super-Middleweight Champion Mikkel "The Viking Warrior" Kessler 46-2-0 (35 Ko's) in a eagerly anticipated unification bout. Carl believes that the judges were harsh on him in there first fight in Copenhegan in 2010 where Kessler ripped the WBC title from him with a unanimous points victory. Kessler promised Froch a rematch a chance to avenge his defeat something Kessler was never given against Joe Calzaghe. Since their first bout both fighters have had tough fights Carl Froch returning with wins againt knockout artist Arthur Abrham the only fighter Carl never stood toe to toe with and smartly used his reach and boxing ability to win a landslide points win, he backed that up with a majority decision over the "Road Warrior" Glen Johnson a tough opponent, before losing heavily to pound for pound superstar Andre Ward. Two more bouts took place a devastating perfromance and in my opinion a career best from Froch to dismantle Lucian Bute who clearly froze on the occassion he was overwhlemed with Froch's pressure and was brutaly beaten by a prime Froch in 5 rounds. His final fight before this eagerly anticiapted rematch was announced, was Yusaf Mack who Froch quickly took out with precise punching in 3 rounds barley a test for the newly crowned IBF champion.
His opponent however was less active returning from a serious eye injury after both the Ward and Froch fights and a lengthy 14 month lay -off from the ring Kessler came back against a tough durable Mehdi Bouadla who was on an impressive winning streak at the time, Kessler was impressive stopping him in the 6th and not dropping a round, he followed this up by facing dangerous hard hitting American Allan Green at the 175 weight limit, Kessler was down in that fight and struggled early on with Greens speed and heavy hands however Kessler found his timing and it proved to sharp knocking out Green with a tremendous left hook in round 4 a punch no fighter would have got up from. Finally his last fight was in Denmark against newly crwoned WBA champion and seasoned pro Brian Magee, a tricky customer whos boxed at the top level for years, Kessler took little time in taking the title in devastating fashion Knocking out Magee in 3 rounds with sickening body punches.

Here is my take on the upcoming fight, Froch is a great fighter but not a great boxer he has an awkward stlye that looks basic but is a nightmare when he's standing infront of you he lunges in with punches instead of using angles it shouldn't work but it does as hes achieved so much and has some world class scalps on his impressive record. The two biggest mistakes i see Froch make time after time in fights are 1. left hand constantly low always open to a hard fast jab and especially a straight right hand all day, and 2. when he throws a right hand his backfoot becomes his lead foot which is terrible for balance if hes caught whilst making that transition he can be seriously shaken this happened in the first fight with Kessler where froch's legs dipped as Kessler took a step back and countered by landing a right hand. He is also slow in fights works at his own pace and explodes only in retaliation (with the exception of the Bute fight) and finally his jab isnt used as a weapon its thrown from his hip which means it has further distance to travel and less speed so not only can he can be out jabbed but it invites fighters to attack as his jab isn't a deterent.

In saying this though froch has a world class chin only down v Jermain Taylor and recovered well to win by ko, he also has so much grit,determination,heart and self belief plus he is hungry and a hungry fighter is a dangerous one. Also his experience against top levle opponents proves he doesnt freeze due to the occassion so i expect a fired up Froch to turn up. He posseses KO power with weighty heavy shots that never seem to get weaker at any point in the fight and is always a danger late on.

Mikkel Kessler in my opinion is both a temendous fighter and skilled boxer he has a good "European Style" a solid hard fast jab and an excellent right hand his left hook has improved with devastation effect just ask Allan Green. He has better movement and is clever with his pressure and can adapt in fights, however Kessler was at his best v Calzaghe didnt put a foot wrong i had him up by the half way stage before Joe changed and was sublime winning all but 1 of the last 6 rounds in my opinion. Kessler is not the same fighter as he was then he has less head movement, slightly less speed and is more stationary making him an easier target to hit. The mistakes i've seen Kessler make in many fights are the way he boxes on the backfoot he moves back in a straight line every time which is dangerous esepcially in this fight as Carl lunges in with combinations, if Kessler does that v Froch hes in serious trouble because he doesnt move backwards on the angle to create space for himself or the oppurtunity to counter when he is pressed backwards.

This could be key for me in this fight if Kessler moves straight back as Froch lunges in he could get hurt however if Kessler takes half a step back and anticipates Froch's lunge given the mistake i pointed out earlier with frochs backfoot becoming his lead foot then kessler could get a ko by catching him on the way in.

I expect Kessler to frustrate the crowd and Froch by controlling the tempo and sticking out hard jabs mixing it to the body trying to land clean combinations and getting out of danger trying to draw Froch in to a hard counter. Froch will himself try to upset Kessler stopping him getting early momentum bullying him and forcing him to box on the backfoot tiring him and drawing him into a rough kind of fight.

So come Saturday night will the "Cobra" infect Kessler and inflict a sickening defeat the 3rd in his career forcing him into retirement or will the "Viking Warrior" invade London and come out victorious as Unified Super Middleweight Champion.

My prediction Kessler UD.