By Andrew Gavan @AndrewGavan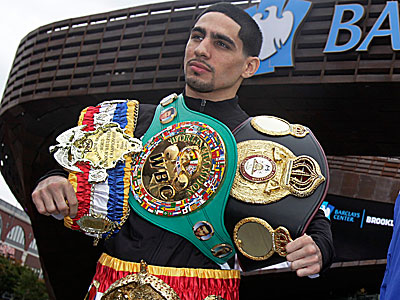 The champ, Danny 'Swift' Garcia.
Zab Judah steps into the ring on Saturday the 27th of April at the Barclays Center in New York possibly for a final time. He will be attempting to reclaim the glory days which saw him win 5 world titles at 2 different weights and become undisputed welterweight champion.
Is Zab's time finally up?
His opponent is considered by many to be the top in the division although I disagree, he is the current WBC,WBA and Ring light welterweight Champion with an undefeated record of 25-0 (16 Kos) to his name which on paper shows he has power an Zab should be worried. This is a tough Ask for Judah in my opinion who surely will enter as underdog against a younger stronger opponent who is very comfortable and naturally big at the weight. A win propels Judah back into the mix and potential super fights with Peterson also a Kahn and Matthyse rematches.
Garcia however is on the way up and professes to many he is destined for stardom and the P4P No.1 spot and maintains nothing will stop him reaching his goals. Many critics including myself on the other hand are unsure how good this kid is, is he protected?
His first notable Fight with Kendall Holt was a SD followed by a shaky performance versus the older Mexican legend Erik Morales which wasn't entirely convincing, next up Amir Kahn who again by many is recognised as a talent and is still naive, this showed in this bout as Kahn easily outboxed Garcia for 2 and a half rounds and caused him problems with his speed before being lured into to an exchange and being caught with a counter left hook. Then there was the Morales rematch; Erik a Hall Of Famer but an old man out of his comfort zone was ko'd in 4 rounds. Again hardly impressive to purists.
There are 3 tools Garcia must execute to claim an impressive victory against Judah, they are 1. Maintain pressure on the older man, tire his legs out, use his size and weight advantage to tire him and rough him up on the inside whilst Working the body from the start to bring his hands down and take the fight from him. 2. Before getting inside to execute the former he has to establish His jab dominating his opponents this is key. 3. And finally is two fold keep his lead foot on the outside of Judahs lead Foot this will keep him off balance and make it difficult to find angles, the second part to this is the classic finish to beat a southpaw Straight right hand left hook (Garcias best punch) combination over the top of Judahs lead hand.
There you have it, my analysis on the bout. So come fight night will the old master roll back the years and stun the star pupil? Or will it be a 'Swift' ending to the career of a Former undisputed champion?.