By Jack Price @PriceyJ97.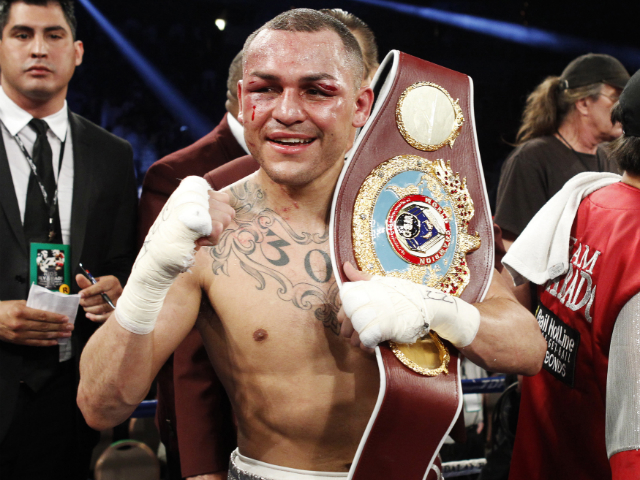 'Mile High' Mike Alvarado avenged the only loss of his career last night with a career-best performance that earned him a unanimous decision victory over the highly-rated former world champion Brandon 'Bam Bam' Rios. It was an emphatic and impressive victory that could have risen Alvarado's stock massively. The 32-year old is now the interim WBO light-welterweight champion and finds himself in a great position right in the middle of the most competitive weight division in boxing right now.
So seeing as the victory is still fresh in our minds, let's weigh up the options for the Denver-native. Could he become one of the sport's unexpected superstars?
Well I don't see why not. Just look at guys at 140lb right now who could all be potential opponents for Alvardo in the near future:
Danny Garcia
Lucas Matthysse
Amir Khan
Brandon Rios (A rematch seems inevitable)
Lamont Peterson
Zab Judah
And look at the guys who are currently campaigning at either just below or above light-welterweight who could all easily go to 140lb for a fight with Alvarado later this year:
Adrien Broner
Juan Manuel Marquez
Timothy Bradley
Ruslan Provodnikov
I know a lot of these guys are scheduled to fight in the next few months but Alvarado probably won't be ready to return to late-Summer/early-Autumn so we could realistically see him take on any of these world-class contenders and champions. Bob Arum has said that the rubber match between Alvarado & Rios is inevitable, but he did also say that he doesn't want it to happen next, which is a little surprising as he's usually very keen on making rematches and trilogies. So seeing as we're "mixing and matching" in the words of Bob himself, these are the three fights that I would most like to see Alvarado in later this year:
Timothy Bradley
This is 100% my first choice. I just think putting these two guys in the ring together can only mean one thing: Fireworks! Both of them have been involved in the two best fights of 2013, they both won, so let's see them meet. We've seen that both of them can get hurt and that they can both also do damage so it would be nothing other than another edge-of-the-seat experience for fight fans.
Adrien Broner
Everyone wanted to see Rios-Broner, but now Rios has been beat, this seems like a logical fight to make. Broner has faced some talented fighters, but no one as tough and who hits as hard as Alvarado. Broner is a phenomenally talented young man, but he can be hit. So what would happen if Alvarado got through with some big shots?
Amir Khan
Providing Amir Khan comes through his fight with Julio Diaz on April 27th, he will be looking for another world title shot. Alvarado, at the moment, only has the interim WBO title but it will most likely get turned into the full one soon. Khan is the more technically skilled fighter but as always when he faces a big hitter, there's that question mark over his chin, which makes it a real 50/50 fight.
Now obviously some of these fights will be tough to make because of the Top Rank-Golden Boy rivalry and other negotiating factors, but I can realistically see most of them happening. Alvarado is in a good position because he doesn't have that "unbeatable" aura around him, which will mean people will be willing to take the risk of fighting if it means a shot at the world title. Rios saw it that way in the 2nd fight, and he got upset, so what's to say Alvarado can't do it again, against even better fighters?