By James McKnight @JamesMcKnight83.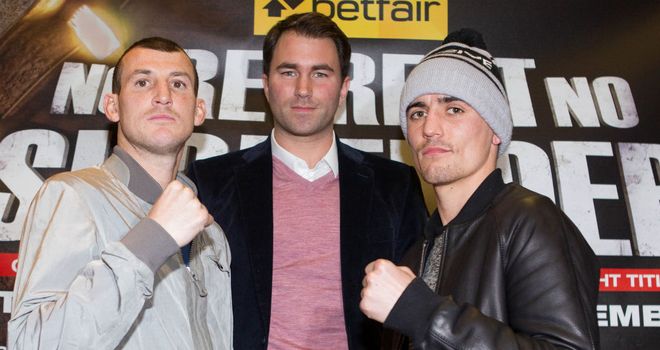 Do not expect either 'Dirty' Derry Mathews or Anthony 'Million Dollar' Crolla to retreat or surrender come fight night. The North-West pugilists will clash for a second time on the undercard of Tony Bellew's WBC 'Silver' light-heavyweight title bout against Isaac Chilemba, at the Echo Arena, Liverpool, on March 30.
The pair met on April 21 last year which saw Mathews rip the British lightweight title from Crolla after six enthralling rounds.
During that bout, Mathews had sent Crolla to the canvas during the third round after landing an accurate right hand uppercut. Midway through the fourth round, Crolla suffered a nasty gash over his left eye which worsened as the fight wore on.
The Liverpudlian's right hand continued to be a potent weapon which forced his Mancunian rival to mount a stubborn fightback. Crolla's efforts though proved in vain as he simply took too many heavy shots in return and this forced referee John Keane to step in and stop the contest during the sixth round.
Mathews (32-8-1, 17 KO's), has fought four times since the win over Crolla. He took on Gavin Rees in a unification bout on July 7. The Liverpudilian was aiming to defend his British lightweight title and in the process try to claim Rees' European belt.
Unfortunately, Mathews lost after that contest was halted during the ninth round. That bout was a rematch from October 2011 which had ended in a technical draw. Mathews, 29, then entered Betfair's Prizefighter 'Lightweights II' tournament in October which Crolla was also featured in. Mathews was eliminated after a semi-final loss to Manchester's Terry Flanagan.
After the Prizefighter tournament, Mathews fought Bulgarian Asan Yuseinov in an eight round contest on December 7, which Mathews won by knockout during the first round.
Crolla (25-4-0, 9 KO's), who, as mentioned, also featured in Betfair's Prizefighter 'Lightweights II' tournament. He has fought three times since the loss to Mathews. The 26-year-old Mancunian bounced back from that defeat to win a quarter-final bout in the Prizefighter tournament, but went on to lose in the semi-final's to Yorkshire's Gary Sykes.
In October, Crolla and fellow Lancastrian Kieran Farrell fought over ten rounds for the vacant English lightweight title. That contest proved to be a bruising affair over ten rounds which Crolla won on points, but resulted in Farrell collapsing to the canvas from exhaustion afterwards. Farrell was rushed to hospital but thank goodness he is now recovering well.
Crolla is seeking revenge. He lost in front of his home fans last time out and is determined to prove a point. Mathews, on the other hand, is out to prove a point too that beating Crolla first time round was no fluke and is also determined to win the fight and win in front of his home fans. The vacant Commonwealth lightweight title is at stake on this occasion.
My prediction
Crolla kept a nice tight guard early on in the first fight and used his jab well, but after the 3rd round knockdown it sort of resulted in him going after Mathews more. It was something of course that Crolla's not used to (getting up from the canvas), so he kind of lost control from then on which played into Mathews' hands.
I think Crolla will aim to get on the front foot again like in the first fight, but this time
will aim to establish more distance between himself and Mathews.
I think Crolla will be more effective landing the straight right hand and right hooks. Mathews will pretty much approach this rematch in the same fashion as the first fight and look to counter and unload to the body and look for uppercuts. I am confident though that Crolla will have learnt from the first fight. He can't risk getting involved in a tear-up because Mathews is the bigger puncher.
I'm don't think Crolla has the power to stop Mathews, but it's not impossible. I think Crolla wins by 8 rounds to 4, so by a score of 116-112.