By Jack Sumner @ Jack_Sumner_
A couple of years ago, many boxing fans and analysts were proclaiming the light welterweight division as the best in the sport. The quartet of Amir Khan, Timothy Bradley, Devon Alexander and Marcos Maidana headed the pack at 140lbs with mouth-watering unification bouts on offer and the possibility of thrilling match ups between any of the protagonists. However, not everything is always as it seems.
Khan and Maidana did thrill in their December 2010 clash that scooped fight of the year honours and after surviving a late onslaught, Khan emerged victorious to set up a clash with the winner of Bradley-Alexander a month later. The fight between the unbeaten young Americans was billed as the 'Perfect Match Up' with some comparing the magnitude of the event to Hagler-Hearns, but it was an anticlimax and ultimately an ugly spectacle, with Bradley winning via tenth-round technical decision after Alexander claimed lack of vision following a clash of heads.
Bradley remained undefeated however and on course for a huge summer date with Khan to unify WBO, WBC and WBA titles. But as often is the case in this sport, the fight didn't materialise. Bradley was stripped of his WBC strap for
refusing to fight Khan
and eventually moved up to welterweight to defeat Manny Pacquiao, a result that remarkably halted progress in his career due to its controversial and widely contested scoring. Khan meanwhile would go on to lose back-to-back fights against Lamont Peterson and Danny Garcia, whilst Alexander and Maidana would eventually have an uninspiring clash at welterweight over ten rounds.
The hype at that time failed to deliver. Early in 2013, the buzz around the light welterweight division has now returned.
When Garcia landed a perfectly timed left hook counter in the third round of his fight with Khan last July, he took the number one spot. The Briton – given much bad press over his fragile chin – was never able to recover and after being put down several times by shots in round four, Garcia recorded a fourth round stoppage win to retain his WBC title and add Khan's WBA crown in the process. His next outing was a defence against faded legend Erik Morales, whom he beat for the second time, but this time much more emphatically with a stunning one punch knockout.
The Philadelphia native was thrust into the discussion for fighter of the year and no doubt his performances in 2012 made a big impression on the world stage. Then a defence was scheduled with former undisputed welterweight champion Zab Judah for February 9th. Last week, Garcia pulled out the fight having sustained severely bruised ribs in sparring and a new date of April 27th has been set, much to the dissatisfaction of Judah and boxing fans.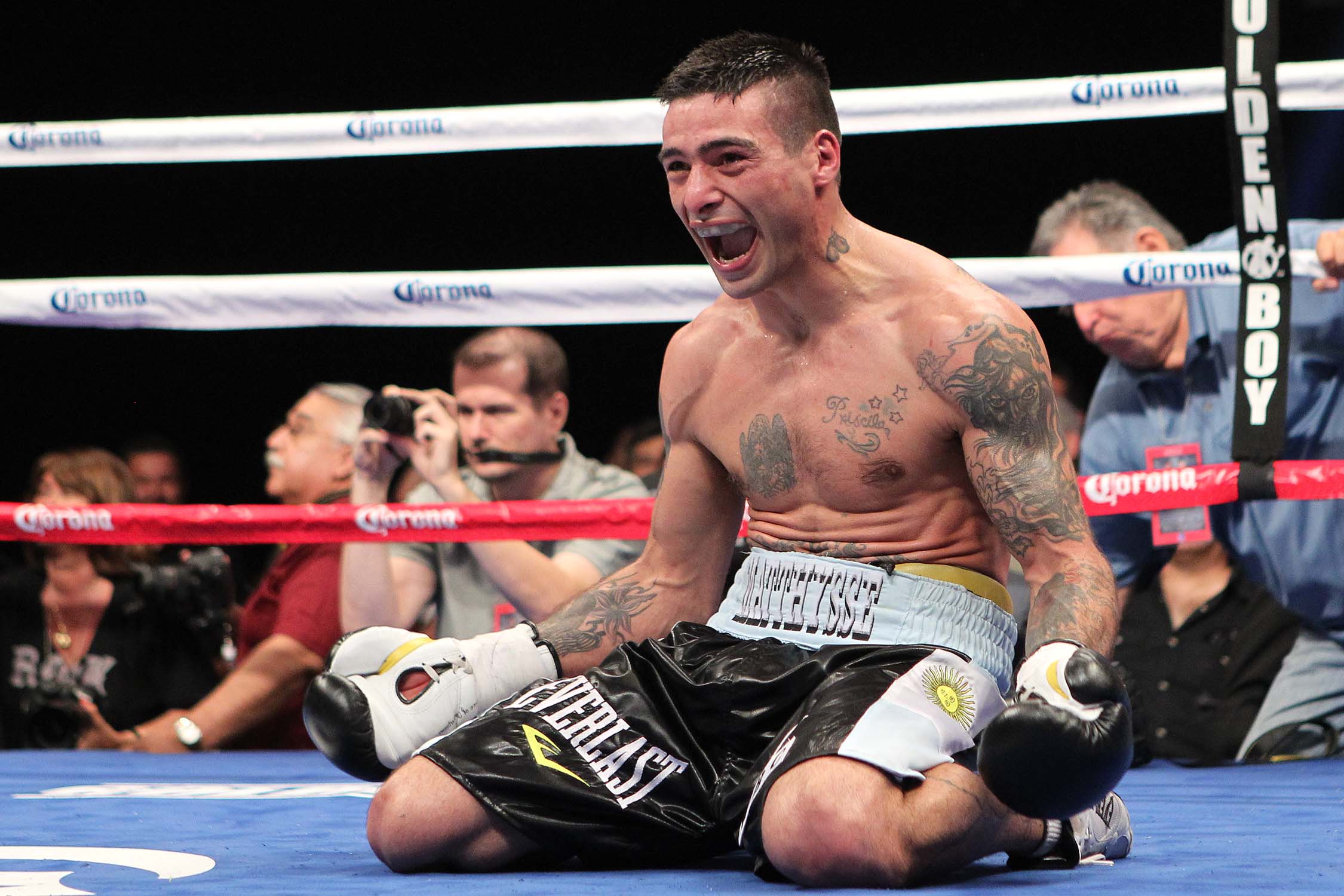 Judah's abhorrence understandably centres around having trained for a big fight that has now been pushed back by some considerable time and he accused Garcia of "needing more time" and "prolonging his a** whipping". Fans have a bone to pick with Garcia for a different reason however, the fact that reports of the injury began to circulate in the immediate aftermath of Lucas Matthysse's last fight.
Matthysse looked devastating as he knocked Mike Dallas Jr out cold in the first round on January 26th. The Argentine is currently the WBC interim titleholder and next in line for a shot at Garcia, in what is no doubt the fight to make at 140lbs. The conspiracy theory is that Garcia is afraid to fight Matthysse though, and after witnessing the brutal annihilation of Dallas decided to feign inury and delay his contracted fight with Judah, in the process prolonging any potential negotiations with 'The Machine' until at least May.
Regardless of the reasons and whether it is in fact a genuine injury, what we have here is a simliar situation to the Bradley-Khan saga. The fighters themselves couldn't be more different to the other pair, but like their light welterweight predeccessors of 2011 they are the two hottest tickets at their current weight limit and could potentially make a fight that would be one of the biggest events in boxing in 2013. The good thing about the 140lb division now though is that whilst Garcia and Matthysse might be the biggest fish in the pond, if that particular fight doesn't materialise there are plenty of other big catches.
The undefeated Brandon Rios is one of boxing's most exciting young fighters and stepped up from his position as the world's leading lightweight with a thrilling sixth-round stoppage of fellow contender Mike Alvarado. Rios-Alvarado II has now been set for March 30th, with the winner – of the actual fight, not the fans who'll be the biggest winners in getting that rematch – becoming an established force at 140lbs and a genuine threat to the positions of Garcia and Matthysse at the head of the division. The mutual dislike between Rios and Garcia would add another element to a potential meeting between those two with 'Bam Bam' claiming he'll happily take on Garcia's outspoken father "in the parking lot" before fighting Garcia in the ring. A fight between any two of the four – Garcia, Matthysse, Rios or Alvarado – would be an action packed affair that surely couldn't fail to deliver.
Judah is still a name in the division. If he loses to Garcia as expected he does little more than elevate the standing of the undefeated champion and if he wins he's back in the mix for other big fights. There's also Ajose Olusegun, who was impressive in defeat when Matthysse took his unbeaten record with a tenth-round TKO in September. And Lamont Peterson, who failed a drug test for synthetic testosterone after upsetting Amir Khan to win a world title in December 2011, makes a return to the ring after over a year out to face former world champion Kendall Holt later this month, in a defence of the IBF title he somehow still holds. The light welterweight division is very much alive right now and could become even more congested if and when Adrien Broner makes his move up from lightweight. Josesito Lopez is likely to move back down in weight. Khan is still campaigning at 140 too.
Having rebounded with a carefully matched win over Carlos Molina he is perhaps one fight away from challenging for a title again and whilst he polarises opinion, he's still one of the biggest draws in and around the division. Plenty of needle for a rematch with Garcia, plenty that would be on the line if he risked his career – surely he couldn't come back from another knockout loss? – against Garcia or one of the other dynamite punchers in the picture. Plenty he could potentially acheive if he can adapt his style and stick to a gameplan outlined by new trainer Virgil Hunter.
At 140lbs right now there are so many entertaining and intriguing big money fights that could be made and a number of captivating scenarios that could play out. It is currently the best division in the sport. We just need some more of these matches to be made, like Rios-Alvarado, to cement that.