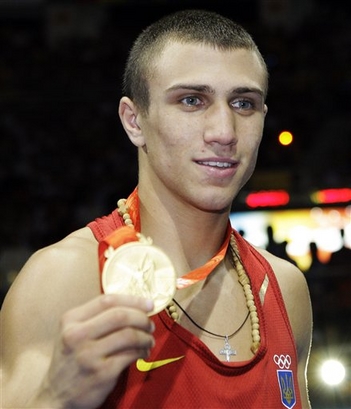 Lomachenko with gold medal in 2008.
Ukrainian Olympic representative Vasyl Lomachenko and four of his medal-winning team mates have signed with the AIBA on a new professional boxing venture created by the governing body of the amateur sport.
AIBA president Wu Ching-Kuo announced the signing of the strongest team of this year's Olympics to the press on Friday.
Lomachenko has been awaited in the pro game for a very long time and now he is finally making the jump into the paid ranks. The Ukrainian has dominated the sport since winning a gold medal at the Beijing Games in 2008. He is also regarded by most as the best pound-for-pound amateur in the world. All of this has attracted huge amounts of attention from professional promoters but Lomachenko has decided to go with the AIBA.
The professional version of the AIBA will be known as the 'APB' and will begin staging shows in the fall of 2013.