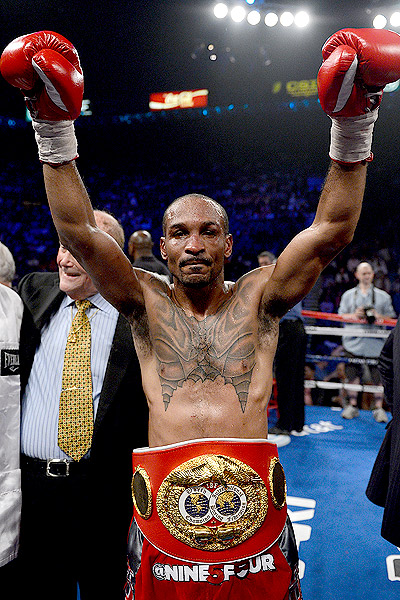 The current IBF welterweight world champion Randall Bailey, who is now 37-years old, is making the most of his time at the top. And he is starting by calling out the pound-for-pound king Floyd 'Money' Mayweather.
Bailey primarily called out Mayweather but he also claimed that he would fight any deserving world title contender at 147lb (welterweight). But, only if the price is right.
"I've been avoided forever," Bailey said, "but now I'm coming off a world title fight win that ended with a punch people are going to be talking about for a long time. If I had a choice, I'd fight Mayweather next. I like the way Floyd's fighting. He's not running around so much to try to win on points. He's giving guys an opportunity to hit him and that's my type of fight."
"I told him (Jones) that I was going to knock him out. In my mind, that was the only way I'd win the fight. I watched a few of his fights that were close, like the (Jesus Soto) Karrass fight, and I was concerned about winning a decision. I knew when I grazed him in the first round that he'd take off like a thief in the night. The kid ran from me a lot and I caught a lot of his punches with my gloves. I waited for him to sit down for a second. I didn't have that much on my punch (straight right) in the 10th round (Jones was decked for the first time as an amateur or pro) because my leg was twisted. In the 11th, he was laying in under his jab so I couldn't hit him with my overhand right. I decided to back up and as we got closer, he kept his chin down to keep away from my overhand right. It was just natural for me to come with my uppercut like I did. That was my best punch ever. It had so much on it that it looked like my fist was in his face. I hit his nose and it felt like meat coming out."
"That punch was similar to the punches he knocked out (Jackson Osei) Bonsu and (Frankie) Figueroa with," Bailey's manager Si Stern noted, "but this was the best punch I've ever seen Randall land. I'm so proud of Randall. He's at the top of his game and a three-time world champion. His one punch produced the 'Knockout of the Year', if not the 'Knockout of the Decade'. We have the world title belt and won't fight on the cheap. We already have a half-million dollar offer to fight overseas, so why would we take a cheap fight? Once Mayweather gets out of jail, he won't find a better opponent to fight than Randall Bailey, who is one of the most dangerous fighters in the world. Mayweather-Bailey has the potential to be a classic fight."
"We'll listen to any offers - Malignaggi, Alexander, Berto, Ortiz, even Pacquiao or Bradley - if the price is right. Randall has been avoided like the plague; they've been scared to death because of his one-punch power. We'll only have one or two opportunities for a big fight before his mandatory is due. It would be crazy for him to fight now for short money."
It's unlikely that Bailey will even enter negotiations with Mayweather, but if it does get that far, I'm sure that Mayweather would offer the 37-year old way more less than what Bailey would ask for. To be totally honest with you, I don't think that any of the top fighters at the weight would give Bailey the chance that he actually does deserve. He's just not popular enough to participate in a PPV fight and he isn't on the same level as the likes of Pacquiao, Mayweather, Bradley, Ortiz or Berto.
The most likely big pay-days for him would be with either Paulie Malignaggi or Devon Alexander. In my opinion, both of these guys still need to prove themselves and a victory against one of the hardest punchers in the sport would be very good for their careers and reputation.