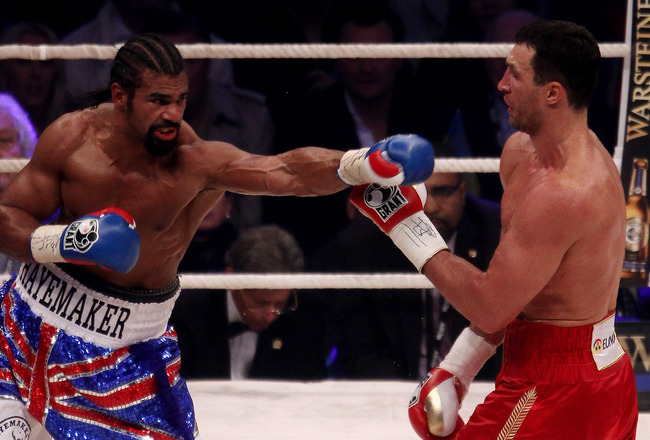 Haye in his fight with Wladimir Klitschko.
British heavyweight David Haye has admitted that he has almost given up on the Klitschko's as he feels like they will never give him a fight. This means that his bout with Dereck Chisora on July 14th could be the last fight we will ever see the 'Hayemaker' in.
His main target was the older brother, Vitali, but the 40-year old Ukranian will be retiring very soon. He is having his last fight against Syrian Manuel Charr on September 8th. After this he is leaving the sport to continue with his career in politics.
Haye has also stated many times that he would be more than willing to have a rematch with the younger brother Wladimir. In their first fight, Haye was widely outpointed and looked helpless against the Ukranian giant. However, Wladimir feels that the Brit has nothing else to offer him as he has already added his WBA and IBF world titles to his collection.
"The Klitschko's manager Bernd Boente said to fight Chisora and the winner fights Vitali," said Haye. "Now it seems like he is fighting someone I've never heard of called Jimmy Carr, or something... There's a reason for him choosing this opponent because they know Vitali will knock him out, look good and get a nice win before going into politics."
"Wladimir has said he doesn't want to fight me again, which is fair enough, so I don't think a rematch is realistic. That fight would have only happened if I would have fought Vitali and won.
Haye also revealed that, although he is not looking past his fight with Chisora, if a fight with either of the Klitschko's doesn't happen in the next year or so, it will be just a one-fight comeback.
"I've not thought beyond this fight but if there's no Klitschko fight, it's going to be back for one fight only," explained Haye. "My last fight was a loss and if I had stayed retired it's not ideal to go out on a loss. But I can put that right against Chisora."