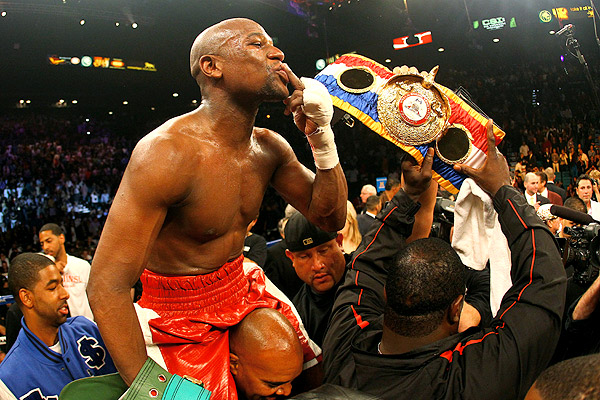 The new light-middleweigh champ Floyd Mayweather.
Floyd 'Money' Mayweather proved to be simply too good for his opponent once again when he outpointed Miguel Cotto over 12 rounds.This victory showed us that he is still the No.1 fighter in the world and he has no plans of leaving that spot in the near future.
At the age of 35 and coming back from almost a year lay-off you would expect him to be be a little rusty but he was quite the opposite. He looked very comfortable at the weight and he started a lot stronger than he usually does, winning the first few rounds with ease. You could see Cotto getting frustrated as he was throwing hard and fast punches but he just simply couldn't land a punch on his illusive opponent. They looked as if they were about to land but at the last second Mayweather turned his shoulder or slipped his head and the punch just brushed past.
Cotto tried to come on strong in the middle rounds but he still didn't have much success. You could argue that he maybe won one or two rounds but it was nowhere near enough to persuade the judges. Every time Cotto threw a punch the crowd went crazy as a big percentage of the fans there were Puerto Rican. If you were sitting way back in the stands it may have looked like a much closer fight as Cotto was throwing a lot of punches that were almost landing, but the judges ringside had a perfect view that enabled them to make the right decision.
Mayweather with Bieber, Lil Wayne, 50 and Gamboa.
Mayweather lived up to his 'superstar' status by walking to the ring with a few of his good friends, 50 Cent, Justin Bieber, Lil Wayne and wrestling star Triple H. Fellow pound-for-pound contender Yuriorkis Gamboa was also in the Mayweather entourage.
The question is now... Who next for Mayweather?
If the Pacquiao fight doesn't happen there is nobody else who really poses a threat to him. There were rumours that Golden Boy were planning a fight between him and young Mexican prospect Saul Alvarez who also fought on the card (beating Shane Mosley), but in reality he is nowhere near the level that Mayweather is on. Enjoy him why he is here because Floyd Mayweather is definitely something special and he will almost certainly go down as one of the greatest fighters of all time.