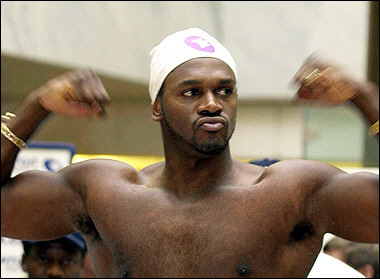 British heavyweight contender Audley Harrison.
Former heavyweight world title challenger Audley Harrison returned to the ring and re-boosted his career on Saturday (May 26th) by knocking out domestic rival Ali Adams in just four rounds at the Brentwood Centre in Essex. It wasn't the best performance from Audley but it showed us that he is serious about giving it one more shot.
He is now looking to step up his level of opponents and he has requested a fight with British heavyweight champion David Price. This would be a good fight for everyone involved. It would make a lot of money and it would be the step up in class that both fighters desperately want.
British champ David Price.
At first it just looked as if it was just a call-out from Audley in search for a big pay-day but Price's promoter Frank Maloney revealed that this is a fight that could happen in the near future.
"It's a fight we're interested in," said Maloney. "We're looking to get in contact with him... There are a lot of option that we are looking at and Audley Harrison is one of them."
Harrison has been pestering BBBofC officials to make him the mandatory challenger for Price's title. He won the International Masters title against Ali Adams on Saturday but he wants a title that is a lot more important. Price is set to defend the British title in September. The main two opponents that are being talked about right now, are Harrison himself and former British champion Matt Skelton.
Audley is not the ideal opponent that the fans want to see David Price face but is a definite step up in class from the recent fighters that 'Pricey' has beaten with ease e.g. Sam Sexton and John McDermott. As long as Audley puts up a better performance than he did against David Haye it could be a relatively good fight.