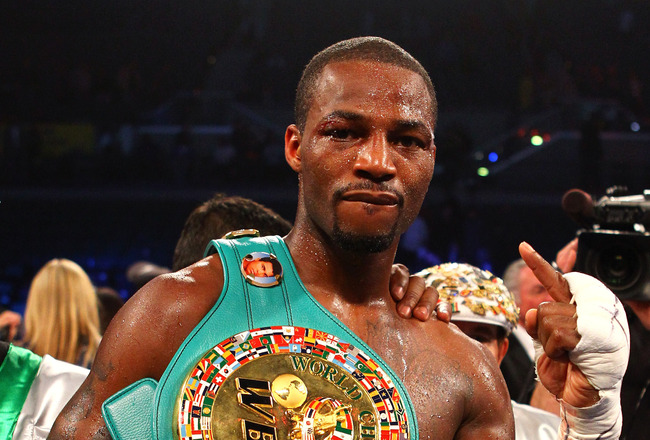 New WBC champ Chad Dawson.
Last night 47-year old Bernard Hopkins lost his WBC light-heavyweight title to 'Bad' Chad Dawson.
The 'Executioner' actually started to show signs of old age. In the years gone by he has just looked like any other world class boxer in their mid 30's when in reality he has been over 15 years older than most of his recent opponents, but in this fight you could see that his age was affecting him. He was lazy throughout the whole fight and did nowhere near enough to convince the judges although one judge somehow managed to score it as a draw.
Usually Hopkins waits to around the 7th or 8th round and then starts to put the pressure on and punish his opponents but this time he just looked like he physically couldn't. Dawson boxed very smartly, just keeping his shorter opponent at a distance. The official scorecards were; 114-114, 117-111, 117-111.
At one point during the fight we all thought we were going to see a repeat of the controversial first fight. Hopkins came back off the rope and made a rugby-like tackle on Dawson and just before that Hopkins almost went flying out the ring when Dawson pivoted round a charging Hopkins and gave him a little nudge on the way.
In the post-fight interview the new world champ Dawson called out pound-for-pound contender and No.1 super-middleweight Andre Ward. Dawson must have been overwhelmed by the experience as in reality he is not even on the same level as Ward.
Witherspoon stuns Mitchell with a hard right-hand.
Acting as chief-support on the card was Seth Mitchell Vs Chazz Witherspoon. We almost saw one of the biggest upsets of the year when Mitchell was wobbled by a hard right hand Witherspoon. Mitchell could barely stand and his slightly bigger opponent continued to club away at his head but the ex-american footballer managed to last out the round. When the bell rang for the second Mitchell still looked a little unsteady but he started to put the pressure on and ended up winning the round. Both fighters rose of their stools a little dazed but as soon as the third round started Mitchell landed a crashing left hook that sent Witherspoon to the canvas. Witherspoon beat the count but a few moments later the referee jumped in to stop the fight.
Whilst this fight proved that Mitchell needs a lot more experience before he is up there with one of the top fighters in the heavyweight division he also proved that he has the power that can trouble anybody out there.