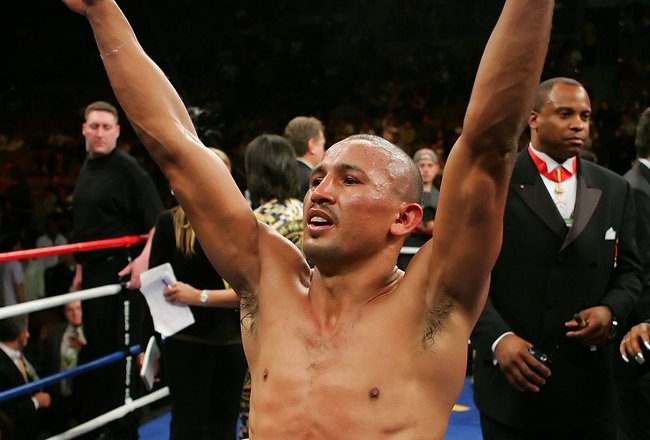 Orlando Salido.
WBO featherweight champion Orlando Salido is coming off a fantastic stoppage win over Juan Manuel Lopez and he is currently feeling on top of the world. He's looking to move up 130lb and has gone straight in and called out pound-for-pound contender and WBO super-featherweight champion Adrien Broner.
Adrien Broner.
Broner is considered to be one of the most talented prospects in the world and has even been described as a younger version of Floyd Mayweather. But, this won't phase Salido, he is a fighter that never gives up and I know for a fact that he wants to prove himself against the best in the world.
This is what he had to say on the situation: "I would love to fight Broner at 130, but with one condition. After the fight, after I knock out Broner, I want his father to brush my own hair... He's always cocky because he never really fought anybody. He fought finished fighters or nobodies and he's so arrogant that I want to shut his mouth. The only thing I'm thinking of now is Broner. He has a big mouth and he likes to dance but I want to break his jaw... I will do exactly the same thing to him that I did to Lopez."
Broner, who is set to fight Gary Sykes on May 19th, was quick to reply to the Mexican fan-favourite.
"He's fighting on Showtime and he's a Showtime fighter. He's trying to get to where I'm at. He beat Lopez twice. To me, that's a B+, B- fighter with no chin. I don't knock him down, I congratulate him on that but they need to stay in their lane. I'm just on a different level... I'm not a promoter, I'm a professional boxer and I'll fight anybody they put in front of me. I don't care who it is. It could be Sykes, it could be Koo-Wan, it could be HuHan, I'm ready!"
If this was fight was to happen... I along with most of the boxing fans out there would be very happy as this would definitely have the potential to be one of the best fights in recent years.